Lung Cancer Choices
The Caring Ambassadors Program is proud to announce the release of
Lung Cancer Choices, 3rd Edition
Lung Cancer Choices can be a useful tool for anyone who is caring for someone with lung cancer, but its primary focus is on the patient. This book is suitable for both the newly diagnosed and those who have been living with lung cancer for some time.
Caring Ambassadors is proud of the impressive and dedicated group of authors that we assembled to write this guide and we would like to take this opportunity to thank each and every one of them for their time and expertise. Thank you for all you do for the Caring Ambassadors Program and for the lung cancer community.
Caring Ambassadors and all of our authors sincerely hope this book will help patients along their journey with lung cancer by providing information that they need to receive the best treatment and supportive care.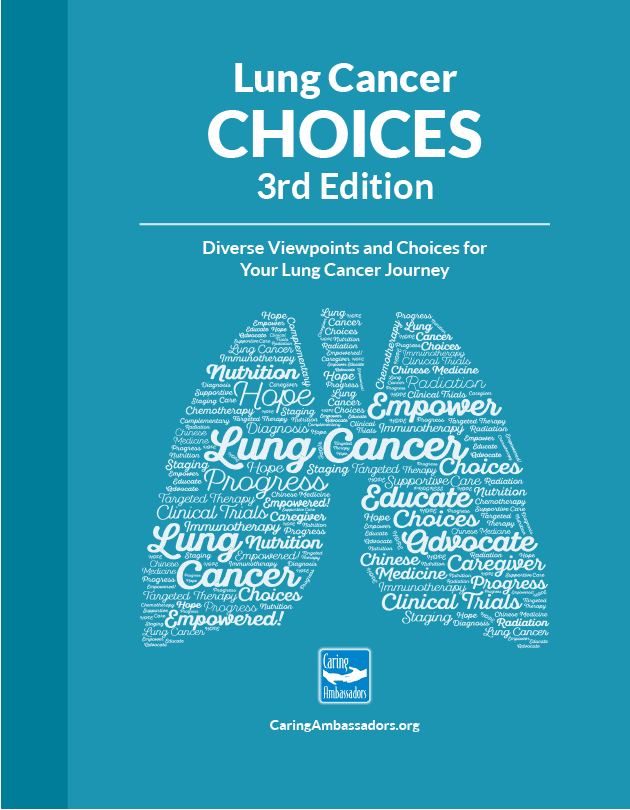 Thank you to our sponsors for their generous support!
Caring Ambassadors offers free brochures for Immunotherapy and Targeted Therapy, click below to view the brochures, or to download the PDFs.
Brochures are available for order in the Educate tab. 
Targeted Therapy for Lung Cancer