The Caring Ambassadors Program provides this website to help you and your loved ones understand your disease
and some of the health care option available to you.
Our three main methods to fight lung cancer are to Empower patients and providers with access to free educational materials, and resources; to Educate communities about the importance of screening and to share current information with patients and their families; and to Advocate for access to screening and treatment for lung cancer for all communities. Knowledge empowers you to ask the necessary questions to become your own best advocate. When your questions have been asked and answered, you and your health care providers will be in the best possible situation to determine the best treatment approach for you.
Thank you for your in your interest in the Caring Ambassadors Focus Groups.
We have closed the application process as we received great response from the community. 
Newly Diagnosed?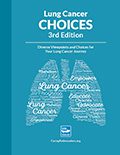 Caring Ambassadors has  released Lung Cancer Choices 3rd Edition, an amazing resource for those diagnosed with lung cancer.
Are you a Caregiver?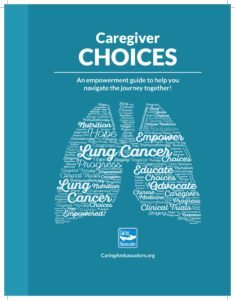 Caregiver Choices, a resource for all those who find themselves in the role of caregiver for someone who has been diagnosed with lung cancer.
Week Ending April 15, 2019
Quashing the resistance: MicroRNA regulates drug tolerance in subset of lung cancers
Relapse of disease following conventional treatments remains one of the central problems in cancer management, yet few therapeutic agents targeting drug resistance and tolerance exist. New research conducted at the Cancer Center at Beth Israel Deaconess Medical Center found that a microRNA—a small fragment of non-coding genetic material that regulates gene expression—mediates drug tolerance in lung cancers with a specific mutation. The findings, published today in Nature Metabolism, suggest that the microRNA could serve as a potential target for reversing and preventing drug tolerance in a subset of non-small-cell lung cancers.
Pioneers and Progress in Personalized Lung Cancer Treatment
The treatment of lung cancer with personalized medicine has come a long way in recent decades, but still more achievements remain to be seen, said Bruce Johnson, MD, FASCO, immediate past president of the American Society of Clinical Oncology, during his keynote speech opening the Business of Oncology Summit hosted by the Florida Society of Clinical Oncology in Kissimmee, Florida.
Health Take-Away: Lung screening is recommended for smokers, those who quitH
Though cigarette smoking has reached the lowest level ever recorded among U.S. adults, it still remains the number-one cause of preventable disease and death, accounting for more than 480,000 deaths every year, or about 1 in 5 deaths. Lung cancer alone is responsible for 29% of cancer deaths, more than those from breast cancer, colon cancer and prostate cancer combined. Health Take-Away: Lung screening is recommended for smokers, those who quit.
Is It Too Soon to Augment Lung Cancer Screening Guidelines for High-Risk Patients?
A lung cancer risk prediction model identified patients at high risk for lung cancer who could forgo annual low-dose CT screening for a specified amount of time, potentially augmenting current lung cancer screening guidelines. The study results were recently published online in JAMA Network Open.
Studies show varying efficacy of immunotherapy in elderly patients with lung cancer
Pembrolizumab monotherapy extended OS compared with chemotherapy among elderly patients with advanced non-small cell lung cancer, according to results of a pooled data analysis presented at European Lung Cancer Congress.
Videos:
Dr. Reck on the Rationale of the Impower150 Study
Martin Reck, MD, PhD, head of the department of thoracic oncology at Lung Clinic Grosshansdorf, discusses the rationale for the IMpower150 study, which assessed the combination of atezolizumab (Tecentriq), bevacizumab (Avastin), and chemotherapy in the first-line treatment of patients with nonsquamous non–small-cell lung cancer (NSCLC).
Dr. Marc Siegel: Sniffing out cancer before it's too late
The science of cancer detection has taken some unusual turns lately. A new study from a Florida lab appropriately named BioScentDx, presented this week at the American Society for Biochemistry and Molecular Biology, found that four beagles could sniff out lung cancer from human blood samples with 97 percent accuracy.
KEYNOTE trials show pembrolizumab benefited patients with advanced small cell lung cancer
Prof Chung Hyun Cheol gives a press conference at AACR 2019 on the data from two separate KEYNOTE trials that showed anti-PD-1 monoclonal antibody pembrolizumab was a benefit to patients with advanced small cell lung cancer.
Timely biomarker work-up helps ensure optimal lung cancer treatment
NEW YORK — This year's HemOnc Today New York meeting kicked off with a session dedicated to treatment advances and challenges in lung cancer.
Order Educational Materials
Free Brochures & Materials
Be Empowered by the Journey of a Lung Cancer Sur-THRIVE-er