Caring for Yourself and Caring for Others During a Disaster/Epidemic
Watch the presentation on Vimeo by Susan Hedlund, LCSW, OSW-c, FAOSW
Director – Patient and Family Services
Senior Scholar – Center for Ethics, OHSU
The Caring Ambassadors Program provides this website to help you and your loved ones
understand your disease and some of the health care options available to you.
Our three main methods to fight lung cancer are to Empower patients and providers with access to free educational materials, and resources; to Educate communities about the importance of screening and to share current information with patients and their families; and to Advocate for access to screening and treatment for lung cancer for all communities. Knowledge empowers you to ask the necessary questions to become your own best advocate. When your questions have been asked and answered, you and your health care providers will be in the best possible situation to determine the best treatment approach for you.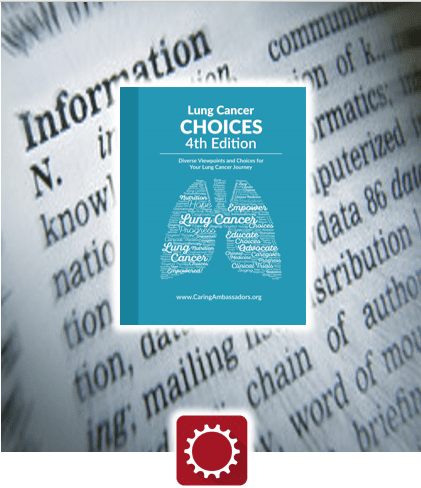 Lung Cancer Choices 4th Edition can be a useful tool for anyone who is caring for someone with lung cancer, but its primary focus is on the patient. This book is suitable for both the newly diagnosed and those who have been living with lung cancer for some time.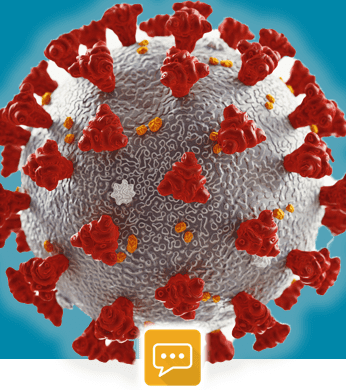 Joint Statement on COVID-19 From Lung Cancer Advocacy Groups.  Our knowledge about how the virus affects our immune systems and other organs is continuously evolving. Along with this knowledge, doctors are becoming better at managing patients with a confirmed diagnosis of COVID-19.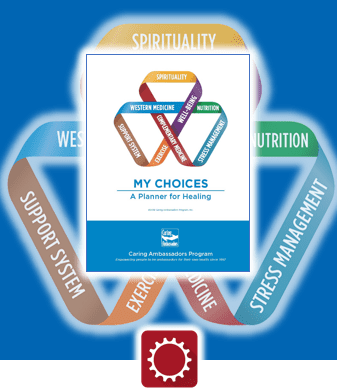 MY CHOICES© is a tool to help you recognize and act upon what you can control in your health care journey to achieve optimal healing, regardless of the illness you face. It contains elements of a guide book, health planner, journal, and activity book to help orient you to and plan for the journey ahead.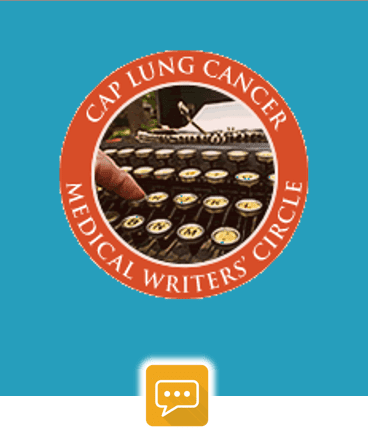 Medical Writers' Circle. The Caring Ambassadors Lung Cancer Medical Writers' Circle provides information to help you and your loved ones make informed decisions about your health and are written by experts in the field of lung cancer from throughout the Country.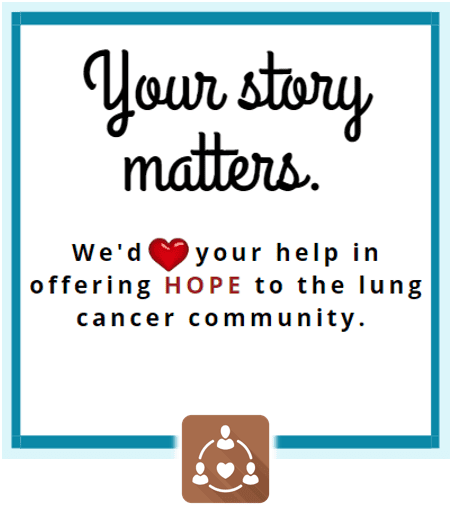 Help Open People's Eyes. Would you be so kind as to share a snippet about your lung cancer experience with us? There is no right way to share – talk, write, draw, speak poetry – just please SHARE. Email us: MyStory@CaringAmbassadors.org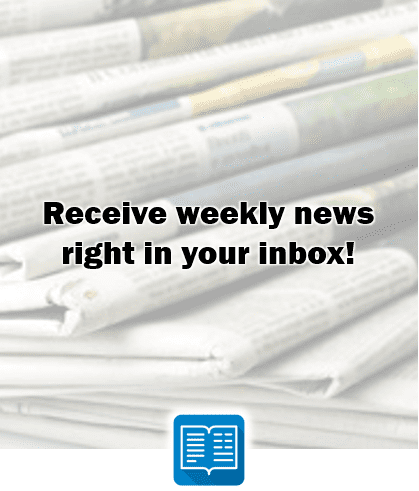 Weekly News Update. Caring Ambassadors Program provides 3 weekly news updates covering Lung Cancer News, Hepatitis C News, and My Choices© Update. Receive them delivered weekly to your inbox.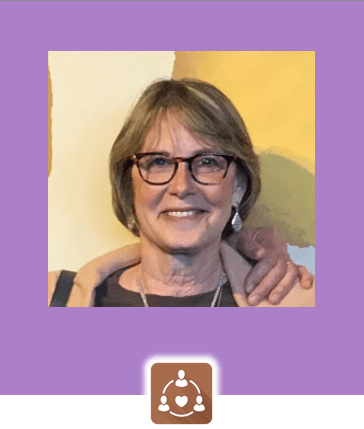 Meet Robin Sharf, through cancer and COVID-19, Robin strives to see the silver linings and does her best to live well each day with gratitude and appriecation. Read Robin's empowering story today.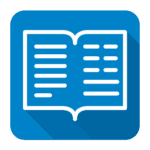 Lung Cancer News
Week Ending September 28, 2020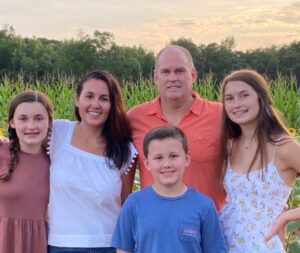 Charlotte Lung Cancer Survivor: 'Anyone Can Get Lung Cancer'
"Mike Smith shares story to raise awareness, funding for lung cancer research"
CURE Media Group Announces Winners of the Inaugural 2020 Lung Cancer Heroes™ Awards
"CURE Media Group, the industry-leading multimedia platform devoted to cancer updates and research that reaches more than 1 million patients, is excited to announce the four winners of the inaugural 2020 Lung Cancer Heroes™ awards and the winner of the Lifetime Achievement award."
Protecting lung cancer patients from Covid-19 – and learning from the experience
"Since the start of the pandemic, efforts have been made to limit the exposure of vulnerable patients to the invisible threat of COVID-19. As a result, many lung cancer patients, who have higher mortality rates from COVID-19, experienced a change in their treatment plan – changes that reflected informed decisions that patients made in collaboration with their physicians, for their own protection"
PORT Not Recommended as Standard of Care for Completely Resected Stage IIIAN2 NSCLC
"Post-operative radiotherapy was associated with a nonstatistically significant increase in disease-free survival in patients with completely resected stage IIIAN2 non-small cell lung cancer and therefore cannot be recommended as a standard of care."
Leveraging Immunotherapy and Targeted Therapy for Cure in Lung Cancer
"Efforts to leverage targeted therapy and immunotherapy, which have been approved modalities in advanced non–small cell lung cancer, are leading to improved survival in patients with advanced and earlier-stage disease."
Thynk Health Solution Empowers MercyOne Des Moines to Grow Lung Screening Program
"Lung Cancer accounts for 25 percent of cancer-related deaths in the U.S. and causes more deaths than the next three cancers combined. Yet, lung cancer screening rates remain some of the lowest. Empowered by Thynk Health's complete cancer screening and incidental finding management solution, MercyOne Des Moines is committed to improving lung cancer screening, detection, and patient care in Central Iowa."
Biocept Lung Cancer Liquid Biopsy Test Obtains Coverage From Blue Cross Affiliate Highmark
"NEW YORK – Liquid biopsy firm Biocept said Monday that Blue Cross Blue Shield affiliate Highmark has made a positive coverage determination for Biocept's Target Selector liquid biopsy test in the diagnosis and treatment of patients with non-small cell lung cancer."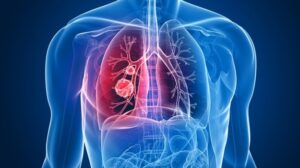 AstraZeneca's Tagrisso Continues to Make Strides in Phase III Lung Cancer Trial
"AstraZeneca released new results from its ADAURA Phase III trial on Sept. 19, showing that its product Tagrisso (osimertinib) demonstrated clinically meaningful improvement in central nervous system disease-free survival (DFS) in the adjuvant treatment of patients with early-stage epidermal growth factor receptor-mutated (EGFRm) non-small cell lung cancer (NSCLC), after complete tumor resection."
KRAS Blocker Sotorasib Delays Lung Cancer Progression
"The experimental KRAS inhibitor sotorasib led to tumor shrinkage in a third of people with non-small-cell lung cancer (NSCLC), and another 56% had stable disease with no further progression, according to study results presented this week at the European Society for Medical Oncology's ESMO Virtual Congress 2020."
Videos:
80-year-old lung cancer survivor recovers from COVID-19, leaves hospital on birthday
"Curly from Hillsboro turned 80 last Friday – the same day he was discharged from St. Luke's Hospital after recovering from COVID-19."
My Choices© Update


Week Ending September 28, 2020
What Is Inflammation, and Why Is It Sometimes 'Bad' for Your Health?
"Your immune system is built to help you. And usually, it does. When an injury or infection damages cells in your body, immune cells and proteins rush to the site to draw attention to the problem and improve your condition. This is the process of inflammation."
Cancer survivors urgently need better nutritional support
"More than two-thirds (69 percent) of the colorectal cancer patients who took part in the national survey said they did not receive any nutritional advice or support from their healthcare team throughout diagnosis, treatment and post-treatment, including those with a stoma."
When is HIIT the best exercise fit?
"Determining whether high-intensity interval training (HIIT) is an appropriate form of exercise for the average person has been hotly debated for years. But for one UBC Okanagan researcher, there's not much to debate—interval exercise, when used appropriately, can fit into people's menu of flexible exercise options."
8 Ways to Manage Pain Naturally
"Nearly half of all Americans over the age of 12 take prescription pain relievers, tranquilizers, sedatives or stimulates, and other similar drugs, according to NPR. Over 19 million people in the U.S abuse pain killers, which can lead to potentially deadly side effects."
A Healthy Lifestyle Can Help You Live Longer Even If You Have Chronic Conditions, Study Suggests
"Exercise, a healthy diet and not smoking or drinking can help you live years longer even if you're struggling with other chronic medical conditions, according to a new study."
7 Genius Ways to Boost Your Energy and Focus Right Now
"Feeling a little lower on energy lately? Not able to focus as well? With the pandemic continuing to cause disruptions to everyday life, it's little wonder. Your focus and attention are being pulled in so many different directions that the additional stress can easily zap your batteries and cause that mind to wander."
Plants over pills: Non-traditional medicine growing in popularity, especially in Colorado's mountain towns
"You might shake your head at Kris Rowse's sound vibration room, the one full of 17 gongs that play a musical note attuned to the vibration of a specific planet or asteroid, or you might even think she's nuts. That's OK. More than a decade ago, before Rowse took a yoga class, she'd probably agree with you."
Click the images to order yours today!