The Caring Ambassadors Program provides this website to help you and your loved ones
understand your disease and some of the health care options available to you.
Our three main methods to fight lung cancer are to Empower patients and providers with access to free educational materials, and resources; to Educate communities about the importance of screening and to share current information with patients and their families; and to Advocate for access to screening and treatment for lung cancer for all communities. Knowledge empowers you to ask the necessary questions to become your own best advocate. When your questions have been asked and answered, you and your health care providers will be in the best possible situation to determine the best treatment approach for you.
Lung Cancer Choices 5th Edition can be a useful tool for anyone who is caring for someone with lung cancer, but its primary focus is on the patient. This book is suitable for both the newly diagnosed and those who have been living with lung cancer for some time.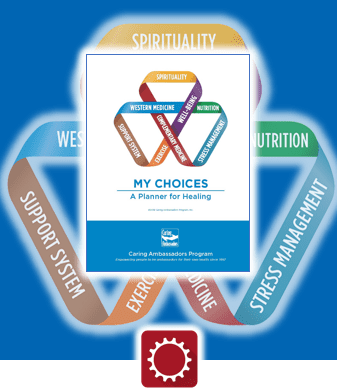 MY CHOICES© is a tool to help you recognize and act upon what you can control in your health care journey to achieve optimal healing, regardless of the illness you face. It contains elements of a guide book, health planner, journal, and activity book to help orient you to and plan for the journey ahead.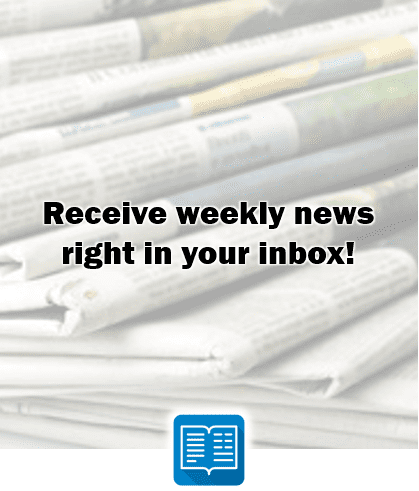 Weekly News Update. Caring Ambassadors Program provides 3 weekly news updates covering Lung Cancer News, Hepatitis C News, and My Choices© Update. Receive them delivered weekly to your inbox.
Lung Cancer News

Week Ending January 23, 2023
Special Report on Lung Cancer and Screening Initiatives, Part III
"In this third in the three-part Special Report, the ITN editorial team offers the most current information on reported findings, updated appropriateness criteria, and national organization news and initiatives, as it continues to monitor this important issue."
Lung Cancer and Stage Migration Following LDCT Screening
"Clinical trials have shown that lung cancer screening (LCS) reduces cancer-related mortality and reduces cancer's advanced stage, but its efficacy in actual clinical practice has not been established. Our multicenter cohort study included patients diagnosed with primary lung cancer at one of four U.S. health care systems between January 1, 2014 and September 30, 2019. The age-adjusted rate of new cases of lung cancer each year and the distribution of cancer stages were the primary endpoints. Low-dose computed tomography(CT) for lung cancer screening was the key exposure variable."
Quality of treatment for lung cancer varies widely across US
"Treatment for lung cancer is rapidly evolving, with new technologies and research-proven procedures. However, a study from Washington University School of Medicine in St. Louis found the quality of care for lung cancer in the U.S. varies widely, with significantly worse outcomes among patients whose surgeries fall short of established treatment guidelines."
Warning Signs of Lung Cancer
"When the diagnosis came in, Jennifer Randolph was mad. The then 58-year-old self-described "Peloton junkie" was physically active and did not smoke, nor did she have a history with the habit, aside from experimenting with a cigarette or two in her teenage years. "I have done everything right," she recalls thinking."
Osimertinib-related pneumonitis incidence higher in real-world lung cancer population
"Drug-related pneumonitis occurred among 18% of patients receiving osimertinib for advanced epidermal growth factor receptor mutation-positive non-small cell lung cancer, according to study results published in CHEST."
Video:
First responders at high risk for lung cancer
"ILLINIOS (KHQA) — Lung cancer is the leading cause of occupational death nationally in firefighters. Cancer accounts for more than 74% of the line-of-duty deaths, according to the International Association of Fire Fighters. Dr. Elie Chbeir, a pulmonologist at Quincy Medical Group, says smoke inhalation can lead to a number of problems."
My Choices© Update

Week Ending January 23, 2023
About That 'Lucky Charms Are Healthier than Steak' Food Pyramid
"We looked for the truth behind claims that the U.S. government funded a new "food pyramid" chart that said the kids' cereal is healthier than beef."
Basics of Energy-Based Aesthetic Treatments: What You Need To Know
"In the last decade or two, technical advancements in medical aesthetics have propelled the business and expanded the range of non-invasive treatments available to a greater variety of patients. This fast growth has made energy-based therapies far more affordable for medical aesthetic operations. In reality, non-surgical procedures provide a far more accessible starting point for exploring medical aesthetic treatments."
A Novel Disability Advocacy and Awareness Program for Training Future Healthcare Professionals on Care for Patients with Disabilities
"In a poll of 714 US physicians, it was revealed that only 40.7% felt very confident in their ability to provide the same quality of care, overall, to patients with disabilities (PWDs) compared with patients without disabilities. It was also found that only 56.5% strongly agreed that they welcomed PWDs into their practice as healthcare providers. This suggests a systemic issue of inequity in medicine, which affects both physicians and patients. If this problem is not corrected, our healthcare system will continue to lack in providing adequate care to PWDs."
Updated online tool first to assess risk of cancer, heart disease using family data
"COLUMBUS, Ohio – A cutting-edge upgrade of an online tool developed by genetic experts and data scientists at The Ohio State University Comprehensive Cancer Center – Arthur G. James Cancer Hospital and Richard J. Solove Research Institute (OSUCCC – James) and The Ohio State University Wexner Medical Center is the first to fully assess an individual's hereditary risk for cancer or heart disease using personal and family health history."
Vitamin D benefits linked to body weight
"New research finds vitamin D may metabolize differently in those considered overweight, resulting in diminished health benefits."
Acupuncture, acupressure may benefit women undergoing gynecologic cancer surgery
"Women who underwent surgery for gynecologic cancers experienced decreased symptoms of anxiety and pain with the use of acupressure before surgery and acupuncture during surgery, according to study results published in Cancer."
I don't look like I have an eating disorder
"As we move further into January, we are entering the peak season for promoting dieting, wellness and fitness plans. In the midst of this media frenzy, it is vitally important to maintain a critical lens on "diet culture" and to remember that eating disorders come in all shapes and sizes. Many fad diets are not actually sustainable or healthy — and some can lead to unhealthy obsessions and dangerous eating disorders."
Multitasking Destroys Your Ability To Communicate-3 Mindfulness Steps That Help
"Stop for a minute and think back to the last time you were having a conversation with someone in person. Chances are they were also looking at their phone or their laptop, at least periodically. How did that feel?"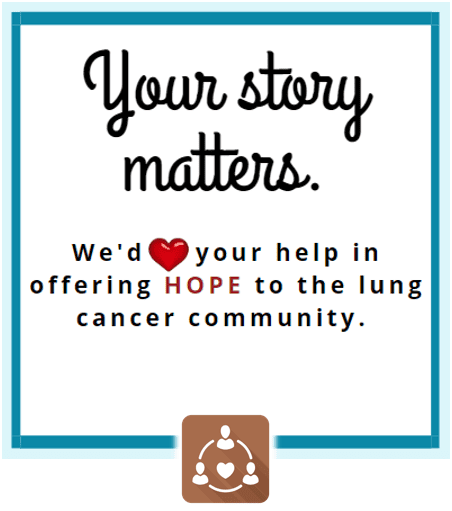 Help Open People's Eyes.
Would you be so kind as to share a snippet about your lung cancer experience with us?
There is no right way to share – talk, write, draw, speak poetry – just please SHARE. Email us: MyStory@CaringAmbassadors.org