The Caring Ambassadors Program provides this website to help you and your loved ones
understand your disease and some of the health care option available to you.
Our three main methods to fight lung cancer are to Empower patients and providers with access to free educational materials, and resources; to Educate communities about the importance of screening and to share current information with patients and their families; and to Advocate for access to screening and treatment for lung cancer for all communities. Knowledge empowers you to ask the necessary questions to become your own best advocate. When your questions have been asked and answered, you and your health care providers will be in the best possible situation to determine the best treatment approach for you.
To receive our weekly news updates in your inbox, CLICK HERE
Lung Cancer News
Week Ending November 18, 2019
Immunotherapy Drug Improves Survival, Lasting Responses for Extensive-Stage SCLC
Imfinzi (durvalumab) is the first immunotherapy to show improved survival and lasting responses for patients with extensive-stage small cell lung cancer (SCLC), according to findings from the phase 3 CASPIAN trial.
Trajectories of pain in patients undergoing lung cancer surgery: A longitudinal prospective study
Researchers investigated the pain trajectory in patients undergoing surgery for primary lung cancer. In addition, they examined whether different pain trajectories relate to distinct groups of patients.
Lung Cancer in Women – UCLA Health Pulmonologist describes the signs & symptoms of this deadly disease
Newswise — A young mom received a cancer diagnosis on Thanksgiving that changed her life Nikki Moreno, a 42-year-old mother of two, was not expecting to hear she had advanced lung cancer when she ended up in the emergency room at the UCLA Medical Center, Santa Monica, last October. She hadn't been feeling well for over a year but didn't think too much of her symptoms.
American Lung Association's 'State of Lung Cancer' 2019 Report finds Virginia must act to reduce burden of lung cancer
Lung cancer is the #1 cancer killer of women and men in the United States. While it's estimated that 5,950 Virginia residents will be diagnosed with this disease in 2019 alone, fortunately more Americans than ever are surviving the disease according to a new report from the American Lung Association.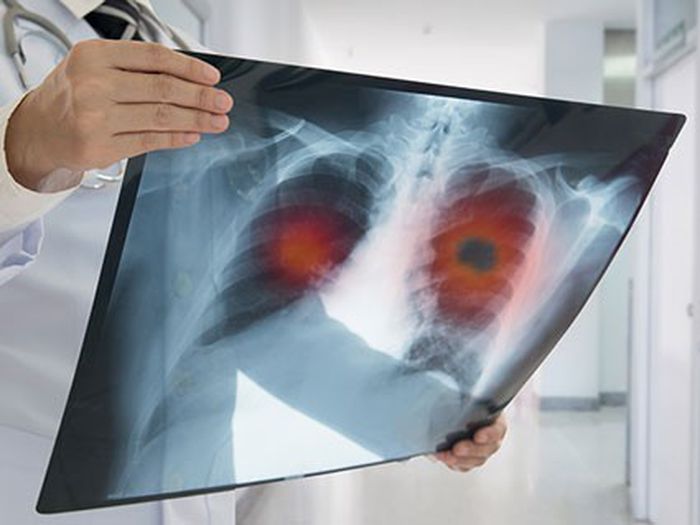 Survival rates climb for lung cancer patients, report says
Americans with lung cancer are now more likely to survive for at least five years after their diagnosis, according to a new report from the American Lung Association.
Adverse Events To Be Aware of With Immunotherapy Treatment in Lung Cancer
Immunotherapy is a form of cancer treatment that is now being used to treat many different types of cancer. However, stimulating the immune system through activated t-cells may result in T-cells acting upon other body systems or organs, unable to distinguish the cancer, causing inflammation and other adverse events (AEs).
Helping Patients with Lung Cancer Understand Their Treatment Options
At the 14th Annual PER® New York Lung Cancers Symposium, Beth Eaby-Sandy, MSN, CRNP, OCN®, addressed how nurses can provide education and support to patients with lung cancer undergoing immunotherapy, in a presentation on immunotherapy-related adverse events (irAEs) at the CURE® patient-focused sessions held in tandem with the conference.
The Top 10 Changes in the World of Lung Cancer Over the Past 20 Years
Huge changes, most for the better, are taking place in the world of lung cancer — the leading cause of cancer deaths, and one of the most common cancers nationwide. While there is still much to be done to further increase survival rates, over the past 20 years, changes in prevention, treatment and attitudes have led to people with lung cancer living longer and healthier lives.
GO2 Foundation for Lung Cancer presents awards
Roy S. Herbst, MD, PhD, received the Asclepios Award, which recognizes lung cancer research pioneers.
Video:
What are the signs of lung cancer? Nonsmoker diagnosed with disease fights stigma
November is Lung Cancer Awareness Month.
Jill Feldman doesn't smoke, but she's been vigilant about getting screened for lung cancer ever since the disease decimated her family.
My Choices© Update


Week Ending November 18, 2019
Exercise Tweaks to Revitalize Your Workout Regimen
"Is your workout routine in a slump? To keep challenging your body, it's important to tweak your regimen every three months or each season."
The Health Benefits of Exercising Through Chemotherapy
"New research found that being active can help your heart—and help you feel better, too."
The Surprising Health Benefits of Garlic
"Aside from the fact that garlic is arguably the world's most flavorful bulb, the stinky stuff also packs a powerful punch of surprising health benefits. Let's break down the health benefits of garlic."
Nearly 90 Percent of PsA Patients Who Use Complementary Medicines Report Benefits
"More than half of surveyed psoriatic arthritis patients reported using some form of complementary or alternative medicines over a 12-month period, researchers reported November 12 at the annual meeting of the American College of Rheumatology in Atlanta."
What Happens To Your Body When You Eat Vegetarian During The Week
"If you're considering becoming flexitarian, or eating a meat-free diet at least part of the time, there's good news: it seems to have health benefits. A study in Nutrients in 2014, for instance, found that in comparison to fully omnivorous people, semi-vegetarian people appeared to have a more nutritious diet."
Flexible Fitness: Is too much sitting bad for your health?
"Are you aware of the impact sitting for long hours can have on your health? Do you know ways to make changes to your daily habits when you are in an environment that requires hours of sitting? It is important to recognize the long-term effects of sitting."
Complementary and alternative therapies to treat colic
"A review of the evidence on the use of complementary and alternative (CAM) therapies to treat babies with colic has shown some that some treatments—including probiotics, fennel extract and spinal manipulation—do appear to help, but that overall the evidence on the use of these therapies is limited so should be treated with caution."
Just what the doctor ordered: Take a yoga class and depression, anxiety improve
"Scientific studies already support yoga practice as a means to reduce symptoms of depression and anxiety. Now a new study out of Boston University School of Medicine (BUSM) provides evidence that yoga and breathing exercises can improve symptoms of depression and anxiety in both the short term–with each session as well as cumulatively in the longer term, over three months."
Listening to music while driving may help calm the heart
"Driving can be very stressful, particularly if you are stuck in heavy traffic or are an inexperienced driver, and this stress will eventually take its toll on the heart. However, researchers now confirm that there is a simple fix for this problem: listening to the right music while driving."
Smart Eating Habits to Boost Your Well-Being
"If you find yourself feeling irritable or sluggish, your diet may need a tune-up. How you eat — and when — can have a huge impact on how you feel. To keep your energy levels up and your mood on an even keel, follow these savvy nutrition tips."
Why Improving physical health reflects on your mental well-being
"While getting busy with your daily life routine, trying to balance between your spiritual well being, keeping up with your physical fitness & maintaining a healthy social life, keeping everything in balance is the hardest effort you can make for a healthy lifestyle routine."
Order Educational Materials
Free Brochures & Materials