The Caring Ambassadors Program provides this website to help you and your loved ones
understand your disease and some of the health care options available to you.
Our three main methods to fight lung cancer are to Empower patients and providers with access to free educational materials, and resources; to Educate communities about the importance of screening and to share current information with patients and their families; and to Advocate for access to screening and treatment for lung cancer for all communities. Knowledge empowers you to ask the necessary questions to become your own best advocate. When your questions have been asked and answered, you and your health care providers will be in the best possible situation to determine the best treatment approach for you.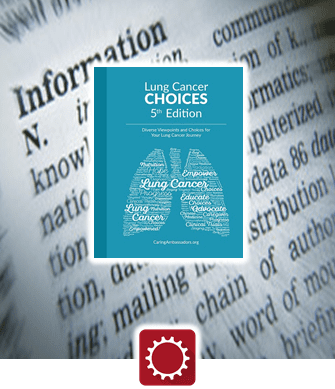 Lung Cancer Choices 5th Edition can be a useful tool for anyone who is caring for someone with lung cancer, but its primary focus is on the patient. This book is suitable for both the newly diagnosed and those who have been living with lung cancer for some time.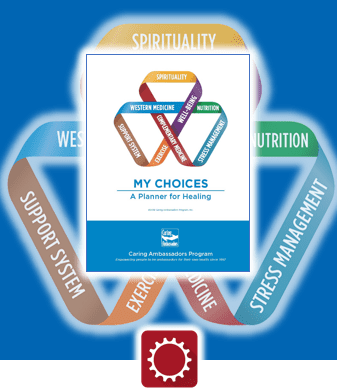 MY CHOICES© is a tool to help you recognize and act upon what you can control in your health care journey to achieve optimal healing, regardless of the illness you face. It contains elements of a guide book, health planner, journal, and activity book to help orient you to and plan for the journey ahead.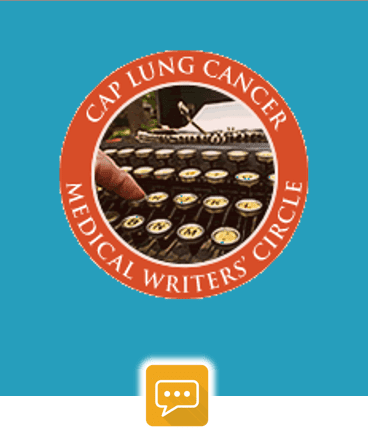 Medical Writers' Circle. The Caring Ambassadors Lung Cancer Medical Writers' Circle provides information to help you and your loved ones make informed decisions about your health and are written by experts in the field of lung cancer from throughout the Country.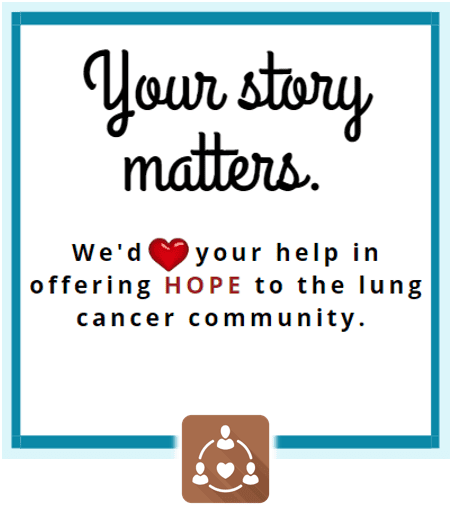 Help Open People's Eyes. Would you be so kind as to share a snippet about your lung cancer experience with us? There is no right way to share – talk, write, draw, speak poetry – just please SHARE. Email us: MyStory@CaringAmbassadors.org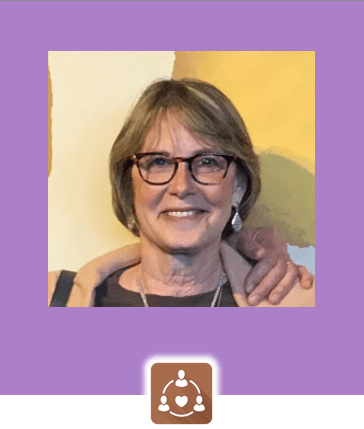 Meet Robin Sharf, through cancer and COVID-19, Robin strives to see the silver linings and does her best to live well each day with gratitude and appriecation. Read Robin's empowering story today.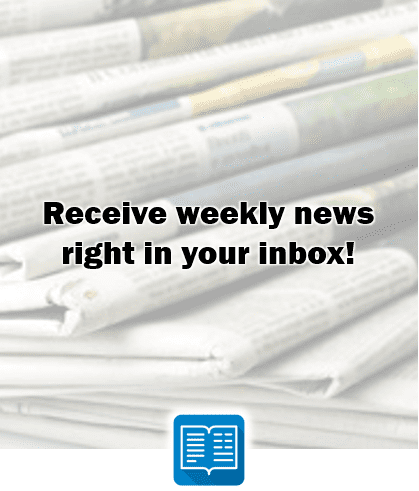 Weekly News Update. Caring Ambassadors Program provides 3 weekly news updates covering Lung Cancer News, Hepatitis C News, and My Choices© Update. Receive them delivered weekly to your inbox.
Lung Cancer News
Week Ending August 1, 2022
COVID or Lung Cancer? The Importance of Listening to Your Body
"While we're still dealing with the pandemic, it's fairly common to associate any signs of health abnormality with COVID, even months after you've had the virus, but there are some warning signs that may be an indication of lung cancer."
World Lung Cancer Day: New therapies, novel combinations confer benefit
"World Lung Cancer Day will be held Aug. 1."
Exploring Subset Analyses in the EMPOWER-Lung 1 Trial for NSCLC
"During a live virtual event, Martin F. Dietrich, MD, PhD, discussed the results of the EMPOWER-Lung 1 and EMPOWER-Lung 3 trials of cemiplimab for non–small cell lung cancer. This is the second of 2 articles based on this event."
Addressing mental health in patients with lung cancer improves outcomes
"Mental health plays a significant role in overall health, and addressing these concerns is no less important in patients with lung cancer, according to experts."
City of Hope approved for $7 million for lung cancer study in older adults
"The five-year, multisite study will look at how physical activity before and after surgery affects recovery in an older patient population"
Rybrevant in Combination with Lazertinib Shows Promise in Non–Small Cell Lung Cancer
"The findings of the phase 1b/2 CHRYSALIS-2 cohort will be presented at the International Association for the Study of Lung Cancer 2022 World Conference on Lung Cancer."
Who might better benefit from KRAS and PD-1 combos? New Mirati drug study offers a clue
"Immune checkpoint inhibitors such as anti-PD-1 therapies, which work by unleashing T cells' anti-tumor power, have become a standard of care for non-small cell lung cancer. Targeted therapies have also served as powerful tools against cancers bearing specific genetic alterations. But resistance may develop against both types of therapies, so scientists and drugmakers have been considering pairing them up."
Sequential Maintenance in Extensive-Stage Small-Cell Lung Cancer
"Title: Sequential maintenance with thoracic radiotherapy and durvalumab (MEDI4736) monotherapy or durvalumab (MEDI4736) combinations (tremelimumab or olaparib) in patients with extensive stage-small cell lung cancer after first line platinum based chemotherapy"
VIDEO:
Biagio Ricciuti, MD, Looks Toward Future Research in NSCLC Involving PD-L1 Expression
Targeting KRAS Mutations in Lung Cancer
– ASCO Reading Room video analysis with thought leader James Stevenson, MD
Educated Patient® Lung Cancer Summit Looking Ahead Panel: June 25, 2022
Educated Patient® Lung Cancer Summit Overcoming Barriers to Receiving Biomarker Testing Panel: June 25, 2022
Educated Patient® Lung Cancer Summit Advancements in Early-Stage Non-Small Cell Lung Cancer Presentation: June 25, 2022
My Choices© Update
Week Ending August 1, 2022
Hypnosis, meditation are viable alternatives for pain relief
"Adults who pursued pain relief through mindfulness-focused meditation and hypnosis had better long-term effects than those who received education in pain management, according to one of the largest studies of its kind on nonpharmaceutical pain control and relief."
The American Association of Naturopathic Physicians Hosts Annual Convention in the Central Hub of Healthcare & Research
"The nation's leading conference for licensed naturopathic doctors (NDs), which took place July 21-23 in Spokane, Wash., was a unique time of celebration and learning for over 600 physician attendees. AANP 2022 is the largest event in the naturopathic community, organized and hosted by the American Association of Naturopathic Physicians (AANP) – the professional association representing NDs in the United States."
The Link Between Multiple Sclerosis and Diabetes
"Type 1 diabetes (T1D) is an autoimmune disease in which the body's immune system, which typically fights off infections, mistakenly attacks the beta cells in the pancreas that make insulin. Insulin controls the amount of glucose (blood sugar) within your bloodstream."
Leading health app launches podcast, Discovering Nutrition with Cronometer
"Nutrition tracking app, Cronometer have announced the launch of a podcast called Discovering Nutrition with Cronometer."
How Integrative Medicine Plays a Role in Alleviating Chronic Pain
"In the summer of 2020, Maria Kivi's life was turned upside down when she fell, injuring her wrist, ankle and back. The 59-year-old Westport native had already been dealing with a prior neck injury and the accident sent her into serious chronic pain."
How To Support Healthy Circulation On A Daily Basis, From Experts
"You've probably heard the saying "sitting is the new smoking," and while it may be true, it can also be pretty infuriating to hear. What if your job requires you to be seated, or you simply need a day to unwind on the couch? Trust us, we hear you!"
Green tea extract promotes gut health, lowers blood sugar
"New research in people with a cluster of heart disease risk factors has shown that consuming green tea extract for four weeks can reduce blood sugar levels and improve gut health by lowering inflammation and decreasing "leaky gut."
Test Your Knowledge About the Updated Nutrition Facts Label!
"The U.S. Food and Drug Administration's (FDA's) Nutrition Facts label found on packaged foods and beverages can help you make informed food choices that contribute to healthy lifelong eating habits."
Eating fish linked to skin cancer risk
"If you're trying to stick to a healthy diet, fish is a good choice, right? After all, fish is high in protein, low in saturated fat, and a good source of omega-3 fatty acids, vitamin D, and many other nutrients. Eating more fish can mean eating less of foods with harmful fats and higher calorie counts."
How To Use Supplements in Your Cancer Treatment
"A cancer diagnosis can leave you feeling like your life is spinning out of control. Making decisions on the food you eat and the supplements you take represents an opportunity to regain a measure of control."
The Application of Acupuncture Therapy for Postoperative Pain Over the Past 20 Years: A Bibliometric Analysis
"The purpose of this study is to analyze and visualize the research trends on acupuncture therapy for postoperative pain over the past 20 years to identify hotspots and frontiers, and provide new research ideas."
Want to Live Longer? Exercise Is Key, Study Confirms
"Middle-aged people could add years to their lives just by getting off the couch and going for a walk every day — though it wouldn't hurt to do even more, a large new study suggests."
Organic vs. Conventional Fermented Food: Which Has Better Nutritional Value?
"Here at mbg, we're huge proponents of fermented foods. Not only are these ingredients (think kimchi, kefir, kombucha, and sauerkraut) excellent for supporting your gut because of their probiotic power, but they're also delicious and packed with a range of nutrients that are great for your overall health and well-being."
Why are you taking a multivitamin?
"Are you among the one in three Americans who gulps down a multivitamin every morning, probably with a sip of water? The truth about this popular habit may be hard to swallow."
9 Ways to Improve Your Gut Bacteria, Based on Science
"There are around 40 trillion bacteria in your body, most of which are found in your gut. Collectively, they are known as your gut microbiome, and they're incredibly important for overall health. However, certain types of bacteria in your intestines can also contribute to many diseases."
Do You Get 'Hangry?' This Might Explain Why
"Snickers gets you – using that so-hungry-you-turn-into-a-cranky-beast feeling you get after skipping a meal with the slogan "You're not you when you're hungry."
Managing IBS with Chinese Herbs
"Since IBS is a chronic condition, most treatments focus on managing symptoms over time. Some recommended treatments include medication, diet and lifestyle changes, and complementary and alternative therapies."
5 Underrated Herbs That Can Enhance Your Health, From An MD & Herbal Expert 
"According to herbal medicine expert Bill Rawls, M.D., author of The Cellular Wellness Solution, we should all add more herbs to our daily routines. "Plants are the best chemists on Earth," he says on this episode of the mindbodygreen podcast, so why not take advantage of their health-promoting phytochemicals?"
What Is Homeopathy and Does It Work?
"Homeopathy is a system of therapeutics that was developed at the end of the 17th century by Dr. Samuel Hahnemann, a German physician. Homeopathy believes that using extremely minute diluted amounts of plants and minerals can help the body repair itself by promoting healing."
Use the arrows on the sides to scroll through content!

We have all heard it before,
"You are what you eat." 
Nourishing your body through any journey is essential. According to the CDC, fewer than 1 in 10 American adults and adolescents eat enough fruit and vegetables. An unhealthy diet can lead to increased chances of some cancers and type 2 diabetes.
Many illnesses can affect the way the body is able to process nutrients. Even some treatments have side effects that influence the bodies ability to use the fuel foods provide. Fueling your body correctly can actually help treatments be more effective.
Knowing the current dietary guidelines can help you make healthier decisions on your journey.
It's not only about how much you eat, but what you eat plays a significant role in your wellness. There are many ways that you can approach improving your diet. You can learn more about nutrition and how to make changes in the Nutrition section of in MY CHOICES: A Planner of Healing. 

"No disease that can be treated by diet should be treated with any other means."
— Maimonides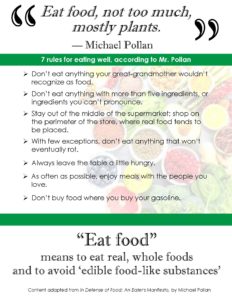 Learning new habits is never an easy feat. Michael Pollan, a respected journalist, writer and professor offers a simple and effective recommendation,
"Eat food, not too much, mostly plants."
Sounds easy enough, right? We put together a list of his 7 rules for eating well to help you create your new eating habits. Great for hanging on the fridge for a daily reminder.
Nutrition in the Patient with Lung Cancer is available as part of Lung Cancer Choices, 5th Edition. This chapter explores how important nutrition is for people with lung cancer.
"Lung cancer treatment can create a burden of healing that can overwhelm even a healthy patient's nutritional reserve. Cancer itself can affect appetite, digestion, and use of nutrients. Treatment regimens such as surgery, chemotherapy, immunotherapy, and radiation can cause side effects that interfere with eating and drinking. A patient's nutritional status can deteriorate throughout treatment, reducing their ability to tolerate treatment. Decisions about treatment regimen may be determined based on general health performance status scores. Weight loss and decreased ability to consume adequate nutrition can negatively influence those performance scores and alter treatment options."

You've probably heard in a hundred times, early detection saves lives! We know it works for breast cancer, prostate cancer, and colon cancer. Science has proven lung cancer screening saves lives, too. But what does that actually mean?
Early detection saves lives means that the sooner cancer is found, the odds of successful treatment increase.
Both people who smoke and people who do NOT smoke are diagnosed with lung cancer.
To stop smoking is one of the best things you can do to help your body. We understand this is not easy task. We offer a comprehensive look at how to stop smoking in Lung Cancer Choices, 5th Edition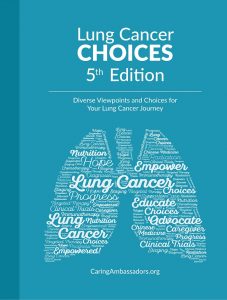 If you or anyone you know has been affected by lung cancer, Lung Cancer Choices 5th Edition is a newly updated complete look at lung cancer from diagnosis and staging to treatments and complementary medicine, and everything in between. This resource is free to read on our site or to download.
Please share this free information with anyone affected by lung cancer.
State program urges home testing during Radon Action Month
PORTLAND, Ore.—Oregon Health Authority is recognizing Radon Action Month during January by encouraging people in the state to test their homes for radon, an odorless, tasteless and invisible gas that is the second leading cause of lung cancer in the United States after smoking.
Many parts of Oregon remain at risk of high radon, a naturally occurring radioactive gas that comes up from the ground and is drawn into buildings, where it can build up to dangerous levels. The U.S. Environmental Protection Agency estimates that radon is responsible for more than 20,000 lung cancer deaths per year in the United States. In addition to being the second leading cause of lung cancer, it is the leading cause of lung cancer among non-smokers.
People can take steps to reduce their exposure to radon by testing their homes for radon and, if necessary, hiring a professional to reduce it to a safe level. The best time to test is during the heating season, when the windows and doors are closed up tight.
"Now more than ever we are spending more time in our homes. That means more exposure to potentially high radon levels. They only way to know if you have a high radon level, is to test." recommends Jara Popinga, Radon Awareness Program coordinator at OHA. "The best time to test for radon is during the heating season or colder months when the windows and doors are closed for long periods of time."
Many test kits are priced between $15 and $25 and can be found in most hardware stores. Radon problems can be fixed by qualified contractors for a cost similar to that of common home repairs, such as painting or having a new water heater installed.
The Radon Awareness Program collects radon test data from test kit manufacturers to understand which areas of the state have the potential for high radon levels and to identify areas where educational outreach efforts need to be focused. The program is offering a free radon test kit to residents whose homes are in ZIP codes with fewer than 20 radon test results. Residents can learn more about the free short-term radon test kit program and how to apply at www.healthoregon.org/radon. Free test kits are available while supplies last.
For more information on which areas of the state are at moderate to high risk of having elevated radon levels, radon testing and mitigation, or to order a test kit online, contact the Radon Awareness Program at radon.program@state.or.us or visit www.healthoregon.org/radon.

Click the images to order yours today!