Caring for Yourself and Caring for Others During a Disaster/Epidemic
Watch the presentation on Vimeo by Susan Hedlund, LCSW, OSW-c, FAOSW
Director – Patient and Family Services
Senior Scholar – Center for Ethics, OHSU
The Caring Ambassadors Program provides this website to help you and your loved ones
understand your disease and some of the health care options available to you.
Our three main methods to fight lung cancer are to Empower patients and providers with access to free educational materials, and resources; to Educate communities about the importance of screening and to share current information with patients and their families; and to Advocate for access to screening and treatment for lung cancer for all communities. Knowledge empowers you to ask the necessary questions to become your own best advocate. When your questions have been asked and answered, you and your health care providers will be in the best possible situation to determine the best treatment approach for you.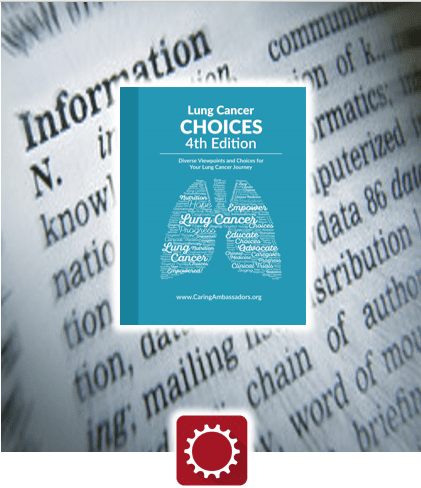 Lung Cancer Choices 4th Edition can be a useful tool for anyone who is caring for someone with lung cancer, but its primary focus is on the patient. This book is suitable for both the newly diagnosed and those who have been living with lung cancer for some time.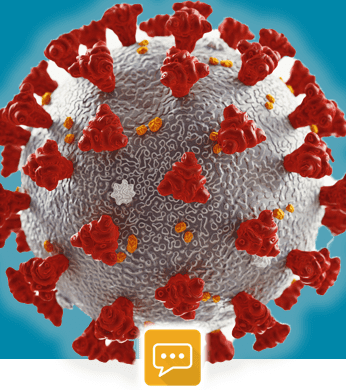 Joint Statement on COVID-19 From Lung Cancer Advocacy Groups.  Our knowledge about how the virus affects our immune systems and other organs is continuously evolving. Along with this knowledge, doctors are becoming better at managing patients with a confirmed diagnosis of COVID-19.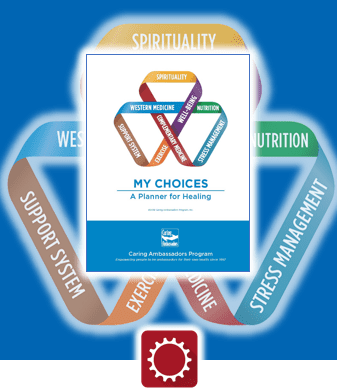 MY CHOICES© is a tool to help you recognize and act upon what you can control in your health care journey to achieve optimal healing, regardless of the illness you face. It contains elements of a guide book, health planner, journal, and activity book to help orient you to and plan for the journey ahead.
Free Educational Materials. Caring Ambassadors Lung Cancer Progrma is proud to offer a variety of free educational materials including a free download of Lung Cancer Choices 4th Edition, Caregiver Choices, and brochures covering topics such as Targeted Therapy, and Your Treatment Team and What You Should Know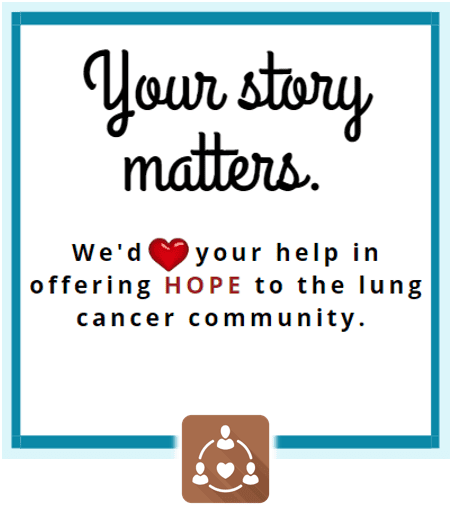 Help Open People's Eyes
Would you be so kind as to share a snippet about your lung cancer experience with us? There is no right way to share – talk, write, draw, speak poetry – just please SHARE. Email us: MyStory@CaringAmbassadors.org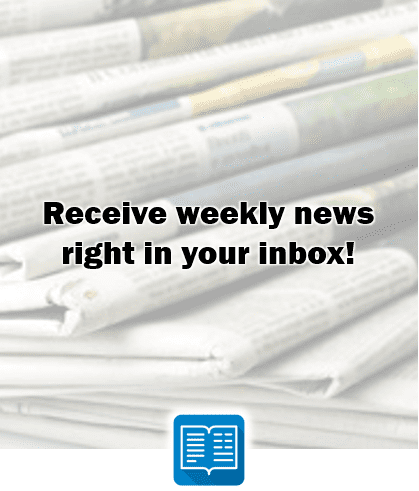 Weekly News Update.
Caring Ambassadors Program provides 3 weekly news updates covering Lung Cancer News, Hepatitis C News, and My Choices© Update. Receive them delivered weekly to your inbox.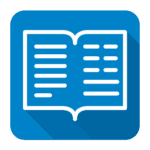 Lung Cancer News
Week Ending August 10, 2020
Lung cancer researchers present new clinical trial data at International Association for the Study of Lung Cancer World Conference on Lung Cancer Virtual Presidential Symposium
"CheckMate 743 Shows That Dual Immunotherapy, Nivolumab + Ipilimumab, Improves Overall Survival for Patients with Previously Untreated Mesothelioma"
FDA Approves First Liquid Biopsy Next-Generation Sequencing Companion Diagnostic Test
"Today, the U.S. Food and Drug Administration approved the first liquid biopsy companion diagnostic that also uses next-generation sequencing (NGS) technology to identify patients with specific types of mutations of the epidermal growth factor receptor (EGFR) gene in a deadly form of metastatic non-small cell lung cancer (NSCLC). This is the first approval to combine two technologies — NGS and liquid biopsy — in one diagnostic test in order to guide treatment decisions."
Lorlatinib Improves PFS Compared to Crizotinib for Patients with ALK-Positive NSCLC
"The phase 3 CROWN study, designed to examine lorlatinib (Lorbrena) for previously untreated advanced anaplastic lymphoma kinase (ALK)-positive non-small cell lung cancer (NSCLC), met its primary end point of improving progression-free survival (PFS) when compared to crizotinib (Xalkori), according to a Pfizer Inc. press release."
Worth the Fight: Communication Is Key When Taking on Lung Cancer
"New Initiative Aims to Foster Informed Discussions Between Newly Diagnosed Lung Cancer Patients, Caregivers and Their Healthcare Team"
10 Ways to Build Strength After Lung Cancer Surgery
"Each year in the U.S., 200,000 people undergo surgery for non-small cell lung cancer (NSCLC), the most common type of lung cancer. Post-op, very few of those same folks exercise—even a little. But one recent study shows how gentle workouts—done regularly—following lung cancer surgery can aid recovery by decreasing shortness of breath and improving cardiopulmonary fitness and lower-body muscular strength."
Video:
New blood test provides breakthrough in lung cancer detection rates
"Lung cancer patients have been given fresh hope after research has revealed the disease could be detected earlier thanks to pioneering new blood test."
Dr. Kelly on Window-of-Opportunity Monotherapy Trials in Lung Cancer
"Karen Kelly, MD, associate director for Clinical Research at the University of California (UC) Davis Comprehensive Cancer Center, Jennifer Rene Harmon Tegley and Elizabeth Erica Harmon Endowed Chair in Cancer Clinical Research, and a professor of medicine at UC Davis Health, discusses the experimental window-of-opportunity studies with monotherapies in lung cancer."
Multiple Therapies Show Responses in Lung Cancer With ROS1 Fusions
"Ben Levy, MD, discusses the mechanism of resistance such as the G2032R solvent front mutation in patients who received crizotinib for lung cancer with ROS1 fusions and how to treat them."
My Choices© Update


Week Ending August 10, 2020
Hydrotherapy proven to be both preventative and therapeutic health treatment
"Spa and wellness businesses have a long history of using hydrotherapy to deliver curative benefits to customers. Now a research review has shown why being immersed in water has so many unexpected health benefits."
Pizza Study Shows Body's Resilience to 'Pigging Out'
"Ever felt guilty for that occasional binge on high-calorie, fatty foods? Relax: A new study of folks overindulging on pizza finds that if you're healthy and you don't 'pig out' regularly, your body deals with it just fine."
Interested in elimination diets? Check out these tips for going vegan, gluten-free or dairy-free
"There are many reasons to adopt a change in your diet. For many people, implementing a gluten-free, dairy-free or vegan diet isn't a matter of simply getting in on the latest health and lifestyle trend – it's a necessary way to avoid foods that trigger allergies. These elimination diets are necessary for many people, but if not managed properly they can lead to different dietary problems."
10 brain foods to help fight depression and insomnia, boost libido and more
"You are what you eat so it's not surprising a doctor will advise a proper diet to address everything from heart disease to obesity."

Complementary and alternative medicine use in musculoskeletal disorders: does medical skepticism matter?
"Medical skepticism is the reservation about the ability of conventional medical care to significantly improve health. Individuals with musculoskeletal disorders seeing specialists usually experience higher levels of disability; therefore it is expected they might be more skeptical of current treatment and thus more likely to try Complementary and Alternative Medicine (CAM)."
Exercise and sleep deprivation: Should you work out on no sleep?
"When I was in the throes of serious overtraining and battling the fact that my identity was wrapped up in fitness (more accurately, how fit I was), I would work out at any cost."
Food menu fit for pandemic times
"In the midst of a global pandemic, eating well in a sustainable way is more important now than ever, Flinders University experts say."
Fitness watches generate useful information, but increase patient anxiety
"Is my heart beating slightly fast? Is a heart attack coming? I didn't sleep as much as I thought I had last night—is that bad for my heart?"
Experts urge evaluation of diet at routine check-ups
"The time has come for routine health care visits to include some form of dietary assessment and counseling, according to a new scientific statement from the American Heart Association published today in Circulation: Cardiovascular Quality and Outcomes, an American Heart Association journal."
Click the images to order yours today!