Caring for Yourself and Caring for Others During a Disaster/Epidemic
Watch the presentation on Vimeo by Susan Hedlund, LCSW, OSW-c, FAOSW
Director – Patient and Family Services
Senior Scholar – Center for Ethics, OHSU
The Caring Ambassadors Program provides this website to help you and your loved ones
understand your disease and some of the health care options available to you.
Our three main methods to fight lung cancer are to Empower patients and providers with access to free educational materials, and resources; to Educate communities about the importance of screening and to share current information with patients and their families; and to Advocate for access to screening and treatment for lung cancer for all communities. Knowledge empowers you to ask the necessary questions to become your own best advocate. When your questions have been asked and answered, you and your health care providers will be in the best possible situation to determine the best treatment approach for you.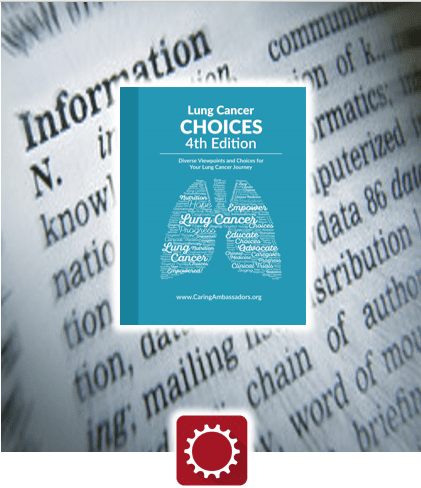 Lung Cancer Choices 4th Edition can be a useful tool for anyone who is caring for someone with lung cancer, but its primary focus is on the patient. This book is suitable for both the newly diagnosed and those who have been living with lung cancer for some time.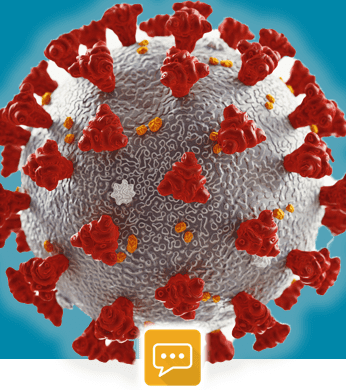 Joint Statement on COVID-19 From Lung Cancer Advocacy Groups.  Our knowledge about how the virus affects our immune systems and other organs is continuously evolving. Along with this knowledge, doctors are becoming better at managing patients with a confirmed diagnosis of COVID-19.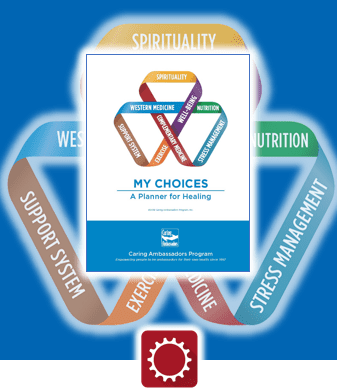 MY CHOICES© is a tool to help you recognize and act upon what you can control in your health care journey to achieve optimal healing, regardless of the illness you face. It contains elements of a guide book, health planner, journal, and activity book to help orient you to and plan for the journey ahead.
Free Educational Materials. Caring Ambassadors Lung Cancer Progrma is proud to offer a variety of free educational materials including a free download of Lung Cancer Choices 4th Edition, Caregiver Choices, and brochures covering topics such as Targeted Therapy, and Your Treatment Team and What You Should Know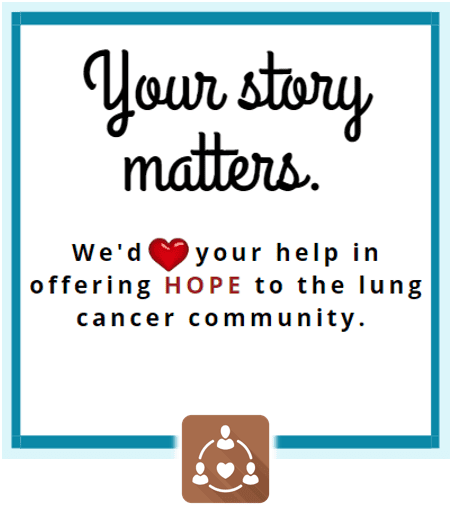 Help Open People's Eyes
Would you be so kind as to share a snippet about your lung cancer experience with us? There is no right way to share – talk, write, draw, speak poetry – just please SHARE. Email us: MyStory@CaringAmbassadors.org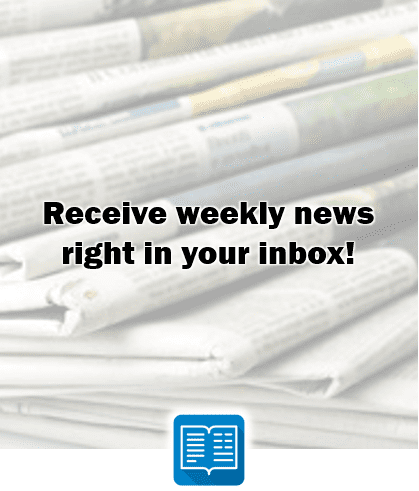 Weekly News Update.
Caring Ambassadors Program provides 3 weekly news updates covering Lung Cancer News, Hepatitis C News, and My Choices© Update. Receive them delivered weekly to your inbox.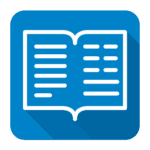 Lung Cancer News
Week Ending August 3, 2020
Cybrexa Therapeutics Expands Scientific Advisory Board With Appointment of Leader in Lung Cancer Research Roy Herbst, M.D., Ph.D.
"Expansion of SAB in advance of IND submission for CBX-12 and start of Phase I/II study in solid tumors."
Recommendations for Managing Patients With Lung Cancer During COVID-19 Era
"World Lung Cancer Day, which is a global initiative for raising awareness of lung cancer, the leading cause of cancer-related deaths in the United States, strikes differently this year in light of the coronavirus disease 2019 (COVID-19) pandemic. COVID-19 has made a strenuous impact on the healthcare system, and managing patients with lung cancer, in particular, has become a major challenge in the field."
Predicting Response to Immune Checkpoint Inhibition in Non-Small Cell Lung Cancer
"Immune cells use various molecular immune checkpoint systems to recognize normal cells and attack abnormal or foreign cells. One such checkpoint employs a protein-programmed death-ligand 1 (PD-L1) on the surface of normal cells that is recognized by the receptor PD-1 on immune cells. This interaction prevents immune cells from attacking."
FDA Grants Breakthrough Therapy Designation to Osimertinib in EGFR+ Lung Cancer
"The FDA has granted a Breakthrough Therapy designation to osimertinib (Tagrisso) as adjuvant treatment of patients with stage IB-IIIA EGFR-mutated non–small cell lung cancer (NSCLC) following complete tumor resection with curative intent, AstraZeneca announced in a press release"
Responses Observed With Poziotinib in HER2-Positive Non-Small Cell Lung Cancer
"The pre-specified primary end point of objective response rate (ORR) has been met in cohort 2 of the phase 2 ZENITH20 clinical trial (NCT03318939), which is evaluating poziotinib as treatment of patients with non–small cell lung cancer (NSCLC) harboring a HER2 exon 20 insertion mutation, according to the topline results announced by Spectrum Pharmaceuticals in a press release."
Don't Overlook Biomarker Testing in Lung Cancer
"An expert sheds light on the importance of genomics in treating lung cancer. In the past decade, researchers discovered several genomic mutations that help drive lung cancer. The main ones occur in the EGFR, ALK, ROS1, NTRK and BRAF genes, and now there are several therapies that work by directly targeting these changes."
Lara Shares Updates With Immunotherapy in Extensive-Stage SCLC
"Although platinum-based chemotherapy given concurrently with a PD-L1 inhibitor has become the standard of care for the frontline treatment of patients with extensive-stage small cell lung cancer, investigators have found that maintenance immunotherapy and combination strategies have fallen short of expectations."
My Choices© Update


Week Ending August 3, 2020
Pandemic Takes Toll on Family Mental Health
"As COVID-19 infections ravaged the country from March to June, parent and child well-being felt the ripple effects, according to a national survey."
Fiber Is an Actual Superfood 
"It's easy to get caught up in novelty and radical changes when it comes to eating better: Maybe the secret to a better diet is eating like a caveman, or only eating meat, or radically altering when you eat, right?"
The health benefits of swimming and why it's especially great for stress relief
"Along with being fun, swimming is an aerobic exercise that can reduce the risk of chronic illnesses like high blood pressure and diabetes. Plus, swimming offers unique workout payoffs of its own. Here are six ways swimming can improve your health."
9 Best Foods to Boost Your Brain, Memory, and Cognition
"You already know eating certain foods can help you lose weight and lower your risk for diabetes and heart disease, but following a healthy diet can also keep your brain sharp. The foods you eat impact neurological health in many ways—including effects on insulin resistance, detoxification, and systemic inflammation—and provide critical vitamins, says Dale E. Bredesen, M.D., a neurologist and author of the forthcoming book The End of Alzheimer's Program, which has a whole section devoted to foods that help prevent cognitive decline. The trick is to find an eating style that optimizes your brainpower and is sustainable."
How beneficial is a family meal?
"The family meal has long been associated with numerous health and wellbeing benefits for both adults and children, but researchers from Flinders University's Caring Futures Institute are questioning where the hard evidence is to support this emotive belief."
Recommended Changes to the Dietary Guidelines and What They Mean
"Since 1980, the U.S. Department of Health and Human Services and the U.S. Department of Agriculture have released the dietary guidelines for Americans every five years. Over the past 40 years, as our understanding of diet and nutrition have changed, so have the dietary recommendations for Americans."
How Much REM Sleep Do We Really Need?
"I'll be honest here: Sleeping is by far my favorite pastime. I love indulging in a mid-day nap when it's raining outside, and I spend my days fantasizing about when I'll be back in my cozy bed again, eyes closed and dreaming."
Click the images to order yours today!