The Caring Ambassadors Program provides this website to help you and your loved ones
understand your disease and some of the health care options available to you.
Our three main methods to fight lung cancer are to Empower patients and providers with access to free educational materials, and resources; to Educate communities about the importance of screening and to share current information with patients and their families; and to Advocate for access to screening and treatment for lung cancer for all communities. Knowledge empowers you to ask the necessary questions to become your own best advocate. When your questions have been asked and answered, you and your health care providers will be in the best possible situation to determine the best treatment approach for you.
Lung Cancer Choices 5th Edition can be a useful tool for anyone who is caring for someone with lung cancer, but its primary focus is on the patient. This book is suitable for both the newly diagnosed and those who have been living with lung cancer for some time.
MY CHOICES© is a tool to help you recognize and act upon what you can control in your health care journey to achieve optimal healing, regardless of the illness you face. It contains elements of a guide book, health planner, journal, and activity book to help orient you to and plan for the journey ahead.
Medical Writers' Circle. The Caring Ambassadors Lung Cancer Medical Writers' Circle provides information to help you and your loved ones make informed decisions about your health and are written by experts in the field of lung cancer from throughout the Country.
Help Open People's Eyes. Would you be so kind as to share a snippet about your lung cancer experience with us? There is no right way to share – talk, write, draw, speak poetry – just please SHARE. Email us: MyStory@CaringAmbassadors.org
Meet Robin Sharf, through cancer and COVID-19, Robin strives to see the silver linings and does her best to live well each day with gratitude and appriecation. Read Robin's empowering story today.
Weekly News Update. Caring Ambassadors Program provides 3 weekly news updates covering Lung Cancer News, Hepatitis C News, and My Choices© Update. Receive them delivered weekly to your inbox.
Lung Cancer News
Week Ending September 26, 2022
Immunotherapy for Non-Small-Cell Lung Cancer with Unresectable Stage III
"Concurrent chemoradiotherapy (CCRT) and adjuvant durvalumab are the recommended treatments for people with stage III non-small-cell lung cancer (NSCLC). However, despite the increased chance of survival provided by immunotherapy in this situation, just one-third of patients were alive and disease-free at 5 years."
Squamous Cell Carcinoma of the Lung: Treatment Considerations
"The researchers found that squamous cell carcinoma (SCC) of the lung is a subtype of non-small cell lung cancer (NSCLC) with a distinct molecular profile distinguishing it from adenocarcinoma of the lung. There was a critical unmet need for efficient second-line options following immunotherapy, especially as immune checkpoint inhibitors are being rapidly elevated from second to first-line status in NSCLC."
A Guide to Lung Cancer Symptoms
"Lung cancer occurs when atypical cells in the lungs grow and multiply uncontrollably. This can cause various symptoms. If you experience any of the symptoms of lung cancer, speak with your doctor right away."
Cancer survival rate rises in the US
"In a recent article by the American Association for Cancer Research (AACR), the researchers highlighted basic, translational, and clinical cancer research and cancer-related population sciences in the 12th edition of its annual Cancer Progress Report."
How Do Patients With Lung Cancer Report on the Quality of Care?
"Lung cancer is the second leading cancer type, with the American Cancer Society estimating approximately 236,740 new cases in 2022."
The 50-Year Journey of Lung Cancer Screening: A Narrative Review
"Early diagnosis and treatment are associated with better outcomes in oncology. We reviewed the existing literature using the search terms "low dose computed tomography" and "lung cancer screening" for systematic reviews, metanalyses, and randomized as well as non-randomized clinical trials in PubMed from January 1, 1963 to April 30, 2022."
Lung cancer treatment: Specific gene mutation may be a key
"Lung cancer can be both deadly and difficult to treat. Experts' understanding of lung cancer has significantly expanded in recent years with developing new treatment options being a priority."
VIDEO:
Improving Outcomes in Non-Small Cell Lung Cancer: Future Directions in Care
Catherine A. Shu, MD, Reviews Findings of Cohort A of the Phase 1 CHRYSALIS-2 Trial in Pretreated EGFR+ NSCLC
My Choices© Update
Week Ending September 26, 2022
Integrative Medicine for Pain Management in Oncology: Society for Integrative Oncology–ASCO Guideline
"The aim of this joint guideline is to provide evidence-based recommendations to practicing physicians and other health care providers on integrative approaches to managing pain in patients with cancer."
All About Aromatherapy: Uses, Health Benefits, and Risks
"Inhaling or absorbing essential oils into the skin are the two most popular aromatherapy methods. Essential oils come from various parts of a plant, including the flowers, leaves, seeds, and woods. The oils contain the "essence" of the plant's fragrance."
Nutritional education is health care — let's make it official
"With its ambitious plans for improving the nation's health and food security, this month the White House will host a Conference on Hunger, Nutrition, and Health — the first of its kind in more than 50 years."
The Simple 4-7-8 Breathing Technique Can Help You Relax and Sleep Better—Here's Why
"When you're feeling stressed or having trouble sleeping, it can sometimes be difficult to get out of that headspace and calm down. But the solution may be as easy as taking deep breaths in and out in a specific rhythm."
Here's What It Actually Means to Have a Chronic Disease
"Whether it's heart disease, cancer, stroke or diabetes, 6 in 10 adults have a chronic disease. Even more alarming, 4 in 10 people have two or more."
The Importance of Nutrition and Physical Activity for Cancer Patients and Their Caregivers
"It is well known that a healthy diet and physical activity are beneficial to cancer survivorship. But support for the physical and dietary health of caregivers of cancer patients is just as important and often overlooked. There is significant evidence showing the benefits of physical activity and healthy dietary intake for both cancer patients and their caregivers."
9 Ways to Improve Your Gut Bacteria, Based on Science
"There are around 40 trillion bacteria in your body, most of which are found in your gut. Collectively, they are known as your gut microbiome, and they're incredibly important for overall health. However, certain types of bacteria in your intestines can also contribute to many diseases."
What are the 6 essential nutrients?
"A person's body cannot produce everything that it needs to function. There are six essential nutrients that people need to consume through dietary sources to maintain optimal health."
Is Fruit Juice Good for You?
"To some people, having juice at breakfast is as much a part of the a.m. routine as brushing their teeth. But regular fruit juice drinkers, as well as those intrigued by the growing number of good-for-you-sounding options, may wonder how it fits in with health goals."
These tests tell you which foods to avoid. Do they work?
"Food is one of life's pleasures, but it can also be a source of pain — especially if you're among the tens of millions of Americans who regularly experience digestive issues such as heartburn, abdominal pain, bloating or diarrhoea. When those symptoms strike, you may wonder: Are certain foods to blame?"
Safe Exercises When You Have Atrial Fibrillation
"There are many known triggers for atrial fibrillation (afib), including alcohol, stress, and intense exercise. (1) But unlike avoiding beverages and stress, which are always positive ways to help you live well with an irregular heartbeat, exercise helps when it's done right"
What if You Could Get the Benefits of Exercise Without Working Out?
"We all know exercise is good for us. It helps you manage weight and lowers the risk of heart disease, type 2 diabetes, and even some cancers. Yet nearly half of U.S. adults don't get the recommended 150 minutes of moderate-intensity activity a week."
Use the arrows on the sides to scroll through content!
We have all heard it before,
"You are what you eat." 
Nourishing your body through any journey is essential. According to the CDC, fewer than 1 in 10 American adults and adolescents eat enough fruit and vegetables. An unhealthy diet can lead to increased chances of some cancers and type 2 diabetes.
Many illnesses can affect the way the body is able to process nutrients. Even some treatments have side effects that influence the bodies ability to use the fuel foods provide. Fueling your body correctly can actually help treatments be more effective.
Knowing the current dietary guidelines can help you make healthier decisions on your journey.
It's not only about how much you eat, but what you eat plays a significant role in your wellness. There are many ways that you can approach improving your diet. You can learn more about nutrition and how to make changes in the Nutrition section of in MY CHOICES: A Planner of Healing. 

"No disease that can be treated by diet should be treated with any other means."
— Maimonides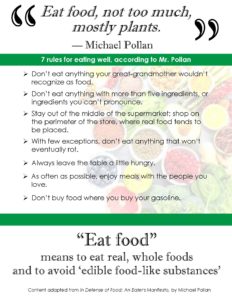 Learning new habits is never an easy feat. Michael Pollan, a respected journalist, writer and professor offers a simple and effective recommendation,
"Eat food, not too much, mostly plants."
Sounds easy enough, right? We put together a list of his 7 rules for eating well to help you create your new eating habits. Great for hanging on the fridge for a daily reminder.
Nutrition in the Patient with Lung Cancer is available as part of Lung Cancer Choices, 5th Edition. This chapter explores how important nutrition is for people with lung cancer.
"Lung cancer treatment can create a burden of healing that can overwhelm even a healthy patient's nutritional reserve. Cancer itself can affect appetite, digestion, and use of nutrients. Treatment regimens such as surgery, chemotherapy, immunotherapy, and radiation can cause side effects that interfere with eating and drinking. A patient's nutritional status can deteriorate throughout treatment, reducing their ability to tolerate treatment. Decisions about treatment regimen may be determined based on general health performance status scores. Weight loss and decreased ability to consume adequate nutrition can negatively influence those performance scores and alter treatment options."
You've probably heard in a hundred times, early detection saves lives! We know it works for breast cancer, prostate cancer, and colon cancer. Science has proven lung cancer screening saves lives, too. But what does that actually mean?
Early detection saves lives means that the sooner cancer is found, the odds of successful treatment increase.
Both people who smoke and people who do NOT smoke are diagnosed with lung cancer.
To stop smoking is one of the best things you can do to help your body. We understand this is not easy task. We offer a comprehensive look at how to stop smoking in Lung Cancer Choices, 5th Edition
If you or anyone you know has been affected by lung cancer, Lung Cancer Choices 5th Edition is a newly updated complete look at lung cancer from diagnosis and staging to treatments and complementary medicine, and everything in between. This resource is free to read on our site or to download.
Please share this free information with anyone affected by lung cancer.
State program urges home testing during Radon Action Month
PORTLAND, Ore.—Oregon Health Authority is recognizing Radon Action Month during January by encouraging people in the state to test their homes for radon, an odorless, tasteless and invisible gas that is the second leading cause of lung cancer in the United States after smoking.
Many parts of Oregon remain at risk of high radon, a naturally occurring radioactive gas that comes up from the ground and is drawn into buildings, where it can build up to dangerous levels. The U.S. Environmental Protection Agency estimates that radon is responsible for more than 20,000 lung cancer deaths per year in the United States. In addition to being the second leading cause of lung cancer, it is the leading cause of lung cancer among non-smokers.
People can take steps to reduce their exposure to radon by testing their homes for radon and, if necessary, hiring a professional to reduce it to a safe level. The best time to test is during the heating season, when the windows and doors are closed up tight.
"Now more than ever we are spending more time in our homes. That means more exposure to potentially high radon levels. They only way to know if you have a high radon level, is to test." recommends Jara Popinga, Radon Awareness Program coordinator at OHA. "The best time to test for radon is during the heating season or colder months when the windows and doors are closed for long periods of time."
Many test kits are priced between $15 and $25 and can be found in most hardware stores. Radon problems can be fixed by qualified contractors for a cost similar to that of common home repairs, such as painting or having a new water heater installed.
The Radon Awareness Program collects radon test data from test kit manufacturers to understand which areas of the state have the potential for high radon levels and to identify areas where educational outreach efforts need to be focused. The program is offering a free radon test kit to residents whose homes are in ZIP codes with fewer than 20 radon test results. Residents can learn more about the free short-term radon test kit program and how to apply at www.healthoregon.org/radon. Free test kits are available while supplies last.
For more information on which areas of the state are at moderate to high risk of having elevated radon levels, radon testing and mitigation, or to order a test kit online, contact the Radon Awareness Program at radon.program@state.or.us or visit www.healthoregon.org/radon.
Click the images to order yours today!