Caring for Yourself and Caring for Others During a Disaster/Epidemic
Watch the presentation on Vimeo by Susan Hedlund, LCSW, OSW-c, FAOSW
Director – Patient and Family Services
Senior Scholar – Center for Ethics, OHSU
The Caring Ambassadors Program provides this website to help you and your loved ones
understand your disease and some of the health care options available to you.
Our three main methods to fight lung cancer are to Empower patients and providers with access to free educational materials, and resources; to Educate communities about the importance of screening and to share current information with patients and their families; and to Advocate for access to screening and treatment for lung cancer for all communities. Knowledge empowers you to ask the necessary questions to become your own best advocate. When your questions have been asked and answered, you and your health care providers will be in the best possible situation to determine the best treatment approach for you.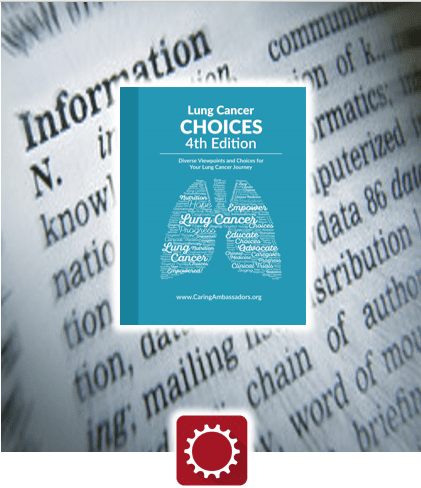 Lung Cancer Choices 4th Edition can be a useful tool for anyone who is caring for someone with lung cancer, but its primary focus is on the patient. This book is suitable for both the newly diagnosed and those who have been living with lung cancer for some time.
Joint Statement on COVID-19 From Lung Cancer Advocacy Groups.  Our knowledge about how the virus affects our immune systems and other organs is continuously evolving. Along with this knowledge, doctors are becoming better at managing patients with a confirmed diagnosis of COVID-19.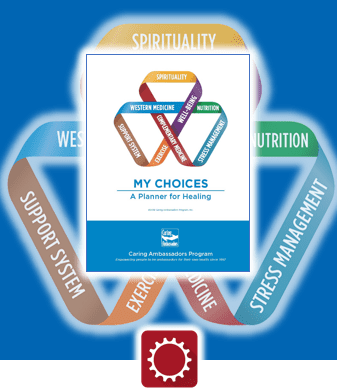 MY CHOICES© is a tool to help you recognize and act upon what you can control in your health care journey to achieve optimal healing, regardless of the illness you face. It contains elements of a guide book, health planner, journal, and activity book to help orient you to and plan for the journey ahead.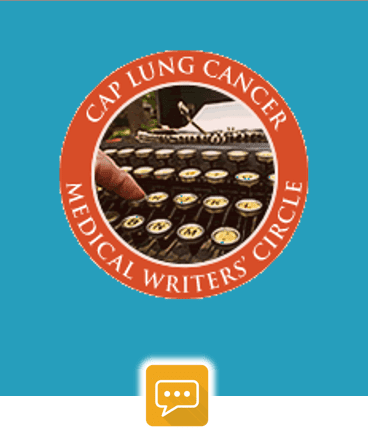 Medical Writers' Circle. The Caring Ambassadors Lung Cancer Medical Writers' Circle provides information to help you and your loved ones make informed decisions about your health and are written by experts in the field of lung cancer from throughout the Country.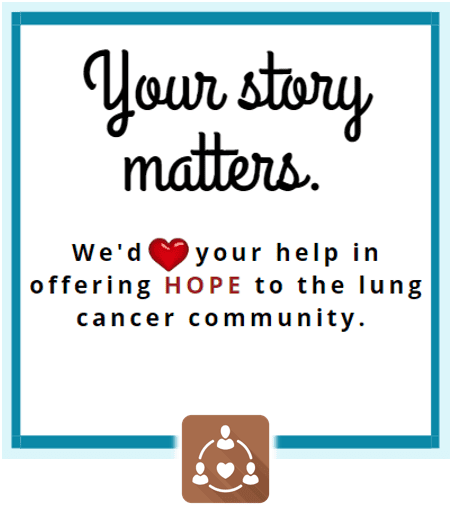 Help Open People's Eyes. Would you be so kind as to share a snippet about your lung cancer experience with us? There is no right way to share – talk, write, draw, speak poetry – just please SHARE. Email us: MyStory@CaringAmbassadors.org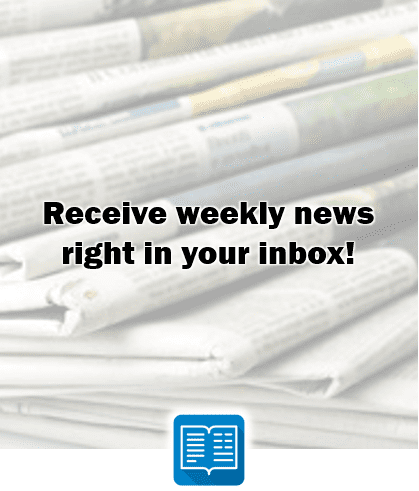 Weekly News Update. Caring Ambassadors Program provides 3 weekly news updates covering Lung Cancer News, Hepatitis C News, and My Choices© Update. Receive them delivered weekly to your inbox.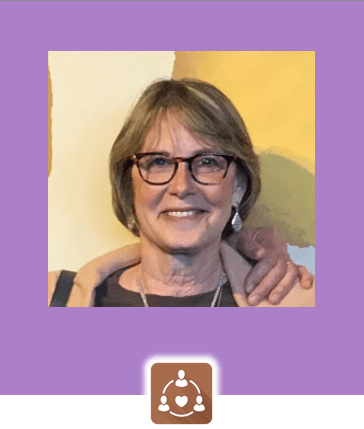 Meet Robin Sharf, through cancer and COVID-19, Robin strives to see the silver linings and does her best to live well each day with gratitude and appriecation. Read Robin's empowering story today.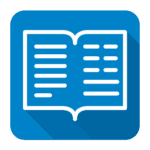 Lung Cancer News
Week Ending November 23, 2020
President-elect offers hope to advance cancer care
"This year has thrown more than its share of challenges our way. With so much coming at us, we can be forgiven for forgetting that November is National Lung Cancer Awareness Month. But this is an important opportunity to better understand one of the deadliest forms of cancer and empower ourselves with the knowledge to protect those we love."
"The State of Lung Cancer": Single-Digit Low-Dose CT Screening and Significant Outcomes Disparities
"Third annual report from the American Lung Association reveals 94 percent of high-risk eligible patients are not getting screening with LDCT, and access and outcomes are worse for racial and ethnic minorities."
Patients With Lung Cancer Should Be Cautious, But Not Fearful of COVID-19
"Alisa Brenes, 63, is a 20-year survivor of lung cancer, and she spends a lot of time worrying about COVID-19. "I first became aware of COVID-19 through my lung cancer community, which was discussing this new disease and how it affects the lungs," Brenes recalls."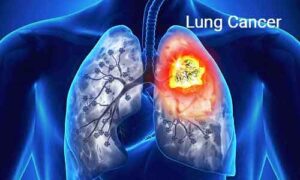 Early Treatment With Lorlatinib Improves Survival In Some Lung Cancer Patients
"BOSTON – Lung cancer patients with a specific genetic alteration lived longer and were protected against metastasis to the brain when treated early with the drug lorlatinib (Lorbrena), according to a study led by researchers at Massachusetts General Hospital (MGH), published in the New England Journal of Medicine (NEJM)."
Targeted Therapy Options for MET-Dependent Lung Cancer
"At the virtual 2020 Personalized Therapies in Thoracic Oncology meeting, Alexander Drilon MD, PhD, Memorial Sloan Kettering Cancer Center, New York, shared insight on targeted therapies for the treatment of patients with MET-dependent lung cancer."
NYU Langone Health Expands Comprehensive Lung Cancer Care in Brooklyn
"BROOKLYN, N.Y., Nov. 16, 2020 /PRNewswire/ — Lung cancer affects more residents of Brooklyn than any other borough in New York City, and claims more than 100,000 lives across the nation each year."
Video:
Steven M. Dubinett, MD, on Early Lung Cancer Development and Testing Methods
"Stand Up to Cancer's (SU2C's) SU2C–LUNGevity Foundation–American Lung Association (ALA) Lung Cancer Interception Dream Team is currently trying to understand how early lung cancer develops and is testing methods to block this development using several complementary approaches."
New report shows survival rate for lung cancer has increased dramatically
"(WKOW) — Lung cancer remains the number one killer for men and women, but a new report is from the American Lung Association is offering some hope."
Promising new blood test provides hope for lung cancer patients
"November is lung cancer awareness month and there is some promising medical news with a new blood test from Guardant Health, which offers hope to lung cancer patients and their Oncologists. Dr. Luis E. Raez of the Memorial Cancer Institute and his patient Lynn Spadaccini both join us with more."
Doctor discusses lung cancer prevention, treatment options
"Dr. Carolyn Jones, thoracic surgeon at the University of Rochester Medical Center, joined us to explain the best ways of lowering your risk, as well as the treatment options available here in Rochester."
My Choices© Update


Week Ending November 23, 2020
President-elect offers hope to advance cancer care
"This year has thrown more than its share of challenges our way. With so much coming at us, we can be forgiven for forgetting that November is National Lung Cancer Awareness Month. But this is an important opportunity to better understand one of the deadliest forms of cancer and empower ourselves with the knowledge to protect those we love."
Everything you need to know about the anti-inflammatory diet
"The jury may be out on why exactly certain foods help reduce inflammation, but experts all agree that this eating plan is a healthy one."
Healthy food labels that work and don't work
"Want that packet of biscuits? That'll be 17 minutes of jogging to burn off one serving (and there's probably more than one serving in there)."
Doing Just 12 Minutes Of Exercise Can Boost Your Health, Study Finds
"In a year where staying indoors has been not only encouraged but mandated, the concept of going for a run can seem all the less appealing. If you're finding it harder to motivate yourself to get moving, you're not alone, but a new study has found that even just a small amount of exercise can make a big difference."
Psychologist offers tips for beating seasonal and pandemic blues
"Fleeting daylight. Colder weather. Gloomy skies. The churn of conflicting emotions and financial distress that can accompany the holidays."
What the Pandemic Did to Workouts
"In the face of pandemic-mandated gym closings and significant limits on movement outside the home, a new survey suggests that Americans are spending more time exercising while dialing back the intensity of their workouts."
Should You See a Chiropractor or a Neurosurgeon
"Countless Americans head to the chiropractor every year with a variety of gnawing neuromuscular disorders and complaints: to relieve pain; to loosen up for athletic activity; to restore or improve functionality; or to help deal with a chronic condition. It's a form of complementary medicine embraced by millions and sanctioned as an accepted area of medical intervention."
Tripped up: Psychedelics' emergence in American health care
"As a psychiatrist specializing in addiction and psychopharmacology, Halpern's research primarily focused on the use of psychedelic medicine to treat crippling dependency. He had heard stories of recovery, had seen some himself, but one in particular sticks out."
Starved, stuffed and squandered: Consequences of decades of global nutrition transition
"Just a handful of rice and beans – a part of our world is starved. Hawaiian Pizza and ice-cream – another part of our world is stuffed, throwing away food every day. This gap is likely to worsen, while food waste will increase and pressure on the environment will go up, a new study shows."
Integrative Medicine Therapies Effectively Increase Quality of Life for Patients With Myeloproliferative Neoplasms
"Patients with myeloproliferative neoplasms (MPNs) who were treated with certain integrative medicine (IM) therapies had lower levels of negative symptoms and reported a higher quality of life (QOL). These findings, from an online survey, were published in Cancer Medicine."
Food health star ratings can improve diets, study finds
"More evidence has emerged that food labelling can encourage manufacturers to improve product nutrition, but University of Melbourne experts say the star labelling system must be compulsory to make a big difference."
Acupressure Spots To Massage When You Have A Mild Headache
"If you still find your headache lingering after all your usual tricks or you want to avoid taking medication, consider trying acupressure."
Click the images to order yours today!