Read the New USPSTF Lung Cancer Screening Recommendations here!
We are sad to share that board member Jessica Steinberg passed away on her 50th birthday, October 7th. Jessica was a shining light in the lung cancer community! Jessica shared her story "Empowered! My Journey – My Choices" to help and encourage others living with the disease to take charge in their journey! Jessica is an inspiration to us all and shared her experiences at significant cancer conferences around the US. Jessica appeared on StandUp To Cancer with Bradley Cooper, who had to read her remarks as she had lost her voice, constantly raising awareness wherever she went. We send our deepest sympathy to her two boys, Nate and Pete, and the rest of the family.
Jessica, your light will continue to shine in our hearts!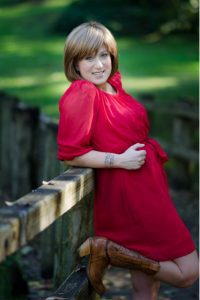 The Caring Ambassadors Program provides this website to help you and your loved ones
understand your disease and some of the health care options available to you.
Our three main methods to fight lung cancer are to Empower patients and providers with access to free educational materials, and resources; to Educate communities about the importance of screening and to share current information with patients and their families; and to Advocate for access to screening and treatment for lung cancer for all communities. Knowledge empowers you to ask the necessary questions to become your own best advocate. When your questions have been asked and answered, you and your health care providers will be in the best possible situation to determine the best treatment approach for you.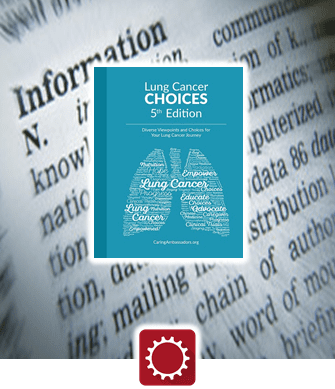 Lung Cancer Choices 5th Edition can be a useful tool for anyone who is caring for someone with lung cancer, but its primary focus is on the patient. This book is suitable for both the newly diagnosed and those who have been living with lung cancer for some time.
Joint Statement on COVID-19 From Lung Cancer Advocacy Groups.  Our knowledge about how the virus affects our immune systems and other organs is continuously evolving. Along with this knowledge, doctors are becoming better at managing patients with a confirmed diagnosis of COVID-19.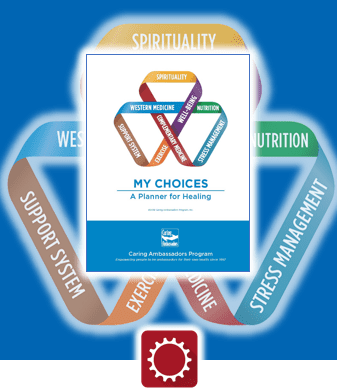 MY CHOICES© is a tool to help you recognize and act upon what you can control in your health care journey to achieve optimal healing, regardless of the illness you face. It contains elements of a guide book, health planner, journal, and activity book to help orient you to and plan for the journey ahead.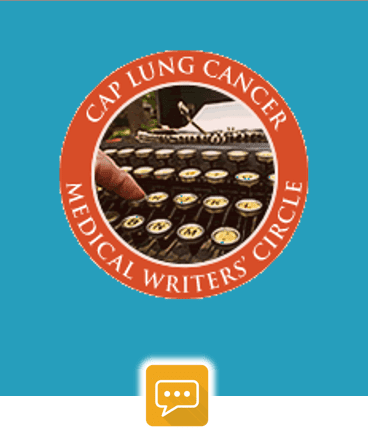 Medical Writers' Circle. The Caring Ambassadors Lung Cancer Medical Writers' Circle provides information to help you and your loved ones make informed decisions about your health and are written by experts in the field of lung cancer from throughout the Country.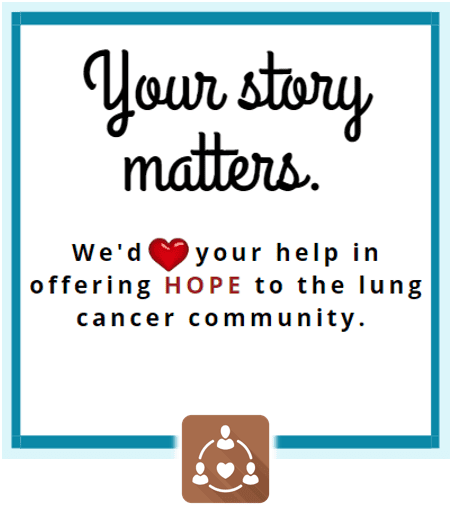 Help Open People's Eyes. Would you be so kind as to share a snippet about your lung cancer experience with us? There is no right way to share – talk, write, draw, speak poetry – just please SHARE. Email us: MyStory@CaringAmbassadors.org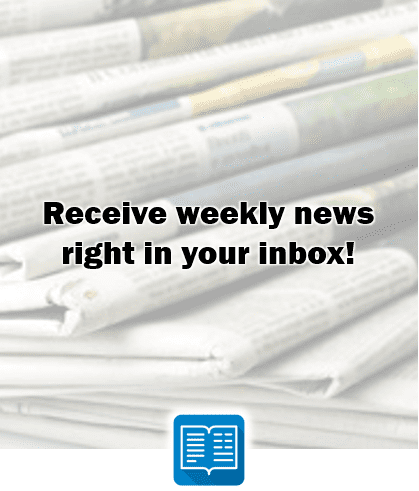 Weekly News Update. Caring Ambassadors Program provides 3 weekly news updates covering Lung Cancer News, Hepatitis C News, and My Choices© Update. Receive them delivered weekly to your inbox.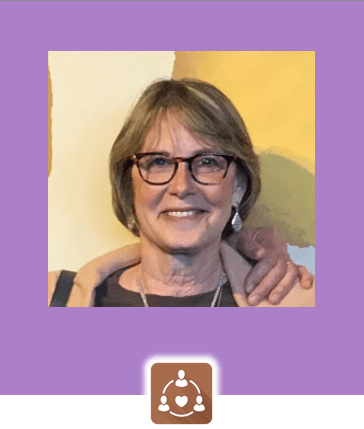 Meet Robin Sharf, through cancer and COVID-19, Robin strives to see the silver linings and does her best to live well each day with gratitude and appriecation. Read Robin's empowering story today.

Weekly News Update
Lung Cancer News
Week Ending November 22, 2021
The Triple Threat Against Lung Cancer: Gifted Clinician, Teacher and Clinical Trialist
"In medicine, we often regard those we hold in highest esteem as being "triple threats," excelling in the tripartite missions of academic medicine of patient care, teaching and scientific inquiry. The person I am nominating for the Lung Cancer Heroes® award, Dr. Roy H. Decker, embodies these three missions more than anyone I have been blessed to know or work with. He is a lung cancer hero — a "triple threat" in lung radiation oncology as a clinical innovator, teacher and ground-breaking clinical trialist."
Immunotherapy-Based Regimen Boosts PFS in EGFR-Mutant Lung Cancer
"Four-drug combination also led to higher response rates versus chemo alone. Combining the PD-1 inhibitor sintilimab with a bevacizumab biosimilar and chemotherapy significantly improved progression-free survival (PFS) versus chemotherapy alone in patients with EGFR-mutant nonsquamous non-small cell lung cancer (NSCLC)."
Lung Cancer Strikes Non-Smokers, Too. This Novel Screening Program Aims to Find Out Why.
"In his role as medical director of NYU Langone's Lung Cancer Center, Abraham Chachoua, MD, has seen significant improvements in the treatment of a dreaded disease once thought of as a death sentence."
Massachusetts #1 in nation for lung cancer screening, surgery, early diagnosis, report shows
"Massachusetts is the top state in the country for lung cancer screening, early diagnosis and surgery, according to an annual report from the American Lung Association."
Bassett Cancer Institute Shines a Light on Lung Cancer this November
"Today is Whiteout Wednesday, a virtual event sponsored by Bassett Cancer Institute (BCI) in order raise awareness for Lung Cancer Awareness Month. Community members, patients and Bassett employees are wearing white to shine a light on this disease."
Lung Cancer Awareness Q&A with Therapeutic Radiologist Dr. Thomas Hayman
"As we honor lung awareness month, what do you want our patients and families to pause and remember?"
My Choices© Update


Week Ending November 22, 2021
Integrative Oncology: Helping to Bridge a Gap in Cancer Care in Low- and Middle-Income Countries
"Cancer is a global health challenge that impacts countries large and small, affluent and impoverished. With population growth and aging, and success in the management of other acute and chronic diseases, the number of new cancer cases is expected to rise over the next two decades."
How Does Deep Breathing Improve Your Digestion?
"The holiday season means you'll be enjoying lots of food. Between parties, family dinners, and all of the traditional baked goods, you may need a bit extra help with your digestion."
What This Functional MD Says To Eat (& Avoid) For Deep Sleep
"How easily do you fall asleep at night? Are you snoozing as soon as your head hits the pillow, or do you tend to toss and turn for what feels like hours? Do you wake up in the middle of the night and can't get back to sleep?"
What Is A Holistic Practitioner?
"Holistic Practitioners are holistic healing professionals with a gift in one or more areas of healing. From bodyworkers to homeopaths to hypnotherapists, the term holistic practitioner has become one that is often challenging to describe or understand."
Can herbs and spices lower blood pressure?
"According to the Centers for Disease Control and Prevention (CDC), nearly half of adults in the U.S. have hypertension."
What Is Integrative Medicine for ADHD? A Holistic Health & Wellness Guide
"ADHD treatments work best when they don't just target symptoms but also promote health, calm, and productivity. In this guide to integrative medicine for ADHD, learn how conventional treatments for ADHD can complement holistic approaches to support overall health and wellness."
The magic of sleep | Fit and Healthy
"Most people want the edge on how to live longer, look better, feel better or get stronger. We can tirelessly research what supplements are most beneficial or what workout modality is going to annihilate the highest number of calories or build the most muscle, but lest we forget the most available aid to recovery and wellness: SLEEP!"
How To Stay Healthy Over The Holidays, From A Functional MD
"While the holidays are defined by joy and cheer, they're also often a stressful time filled with buying presents, holiday parties, traveling, and more."
How to Build Self-Confidence
"Self-confidence is the level of belief in your ability or skills to perform a given role or function. Disappointments, abuse, neglect, or physical or mental illness can diminish self-esteem, which in turn can affect your confidence in certain situations."
Diet, Gut Microbes, and Immunity
"The cliché "you are what you eat" has been used for hundreds of years to illustrate the link between diet and health. Now, an international team of researchers has found the molecular proof of this concept, demonstrating how diet ultimately affects immunity through the gut microbiome."
5 foods to add to your diet for better brain health
"It may seem like Alzheimer's disease is something that some people are simply destined to develop. But that's not the case, Dr. Uma Naidoo, director of nutritional and lifestyle psychiatry at Massachusetts General Hospital in Boston, told TODAY."
Outdoor exercise lessened anxiety, depression during COVID-19 lockdowns
"A new study highlights the importance of being active and spending time outdoors, even during a pandemic."
VIDEO
Motivational Monday: Dr. Binks explains the impact nutrition has on mental health
Use the arrows on the sides to scroll through content!
Click the images to order yours today!