The Caring Ambassadors Program provides this website to help you and your loved ones understand your disease
and some of the health care option available to you.
Our three main methods to fight lung cancer are to Empower patients and providers with access to free educational materials, and resources; to Educate communities about the importance of screening and to share current information with patients and their families; and to Advocate for access to screening and treatment for lung cancer for all communities. Knowledge empowers you to ask the necessary questions to become your own best advocate. When your questions have been asked and answered, you and your health care providers will be in the best possible situation to determine the best treatment approach for you.
Newly Diagnosed?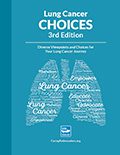 Caring Ambassadors has  released Lung Cancer Choices 3rd Edition, an amazing resource for those diagnosed with lung cancer.
Are you a Caregiver?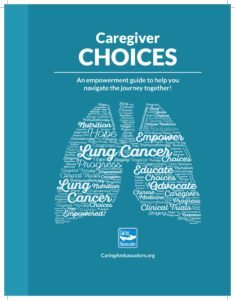 Caregiver Choices, a resource for all those who find themselves in the role of caregiver for someone who has been diagnosed with lung cancer.
Week Ending May 20, 2019
Veracyte Unveils Next-Generation Percepta Genomic Sequencing Classifier for Improved Lung Cancer Diagnosis
Veracyte, Inc., a leading genomic diagnostics company, today announced new data demonstrating that its next-generation Percepta® Genomic Sequencing Classifier (GSC) provides expanded lung cancer risk information that can further guide next steps for patients with lung nodules.
Biocept Announces Clinical Validation and Commercial Launch of its Target Selector™ Multi-Gene Liquid Biopsy Panel for Lung Cancer
Biocept, Inc., a leading commercial provider of liquid biopsy tests designed to provide physicians with clinically actionable information to improve the outcomes of patients diagnosed with cancer, announces the commercial launch of Target Selector™ NGS Lung Panel, the Company's multi-gene liquid biopsy panel specifically developed for lung cancer.
Spokane patient called medical pioneer after using new tool to fight cancer
SPOKANE, Wash. – The fuzzy bear head will make sense in a few minutes, but first, meet Jeanie Larsen, a Spokane woman who went to the doctor's office because of a nasty case of bronchitis last fall.
How radiologists can use mammography to improve lung cancer screening utilization
Many women who undergo screening mammography are also eligible for lung cancer screening (LCS), according to a new study published by the Journal of the American College of Radiology. Yet LCS utilization in the United States remains considerably low.
Paik Explains the Rationale for the Second-Line Standard for Patients With Squamous NSCLC
During a recent Targeted Oncology live case-based peer perspectives presentation, Paul K. Paik, MD, explained to a group of physicians the treatment considerations and decisions he makes when seeing a patient with non–small cell lung cancer (NSCLC).
Highpoint Health Offers Life-Saving Lung Cancer Screenings
(Lawrenceburg, Ind.) – Lung cancer is a deadly disease with the five-year survival rate for those diagnosed much lower than many other forms of cancer, including breast, colon and prostate.
Video:
Living Beyond Small Cell Lung Cancer
After elucidating their current status, Nancy and Dan MacMillan provide parting advice to patients and caregivers who encounter a diagnosis of small cell lung cancer.
Small Cell Lung Cancer: Finding Support & Information
Thinking of their journey through small cell lung cancer, Nancy and Dan MacMillan shed light on the support and information they found useful.
New mom diagnosed with lung cancer says she is 'living proof' V Foundation works
RALEIGH, N.C. (WNCN) —  As CBS17 takes a closer look at the Victory Ride, we are telling the stories of how the V Foundation is touching lives right here in Raleigh.
Liquid Biopsies in Lung Cancer: Know the Basics
Liquid biopsies are becoming an integral part of the diagnosis and treatment planning for patients with lung cancer, explained Adijan Kuckovic, a graduate student researcher at the University of Illinois College of Medicine at Rockford.
Woman with terminal lung cancer wants all schools tested for radon
GRANVILLE, Ohio (WSYX/WTTE) — A Central Ohio woman now fighting the odds said she's going to take the time she has left to fight for the safety of children. Annie Cacciato wants all Ohio schools to test for the cancer-causing gas radon.
Order Educational Materials
Free Brochures & Materials