The Caring Ambassadors Program provides this website to help you and your loved ones
understand your disease and some of the health care options available to you.
Our three main methods to fight lung cancer are to Empower patients and providers with access to free educational materials, and resources; to Educate communities about the importance of screening and to share current information with patients and their families; and to Advocate for access to screening and treatment for lung cancer for all communities. Knowledge empowers you to ask the necessary questions to become your own best advocate. When your questions have been asked and answered, you and your health care providers will be in the best possible situation to determine the best treatment approach for you.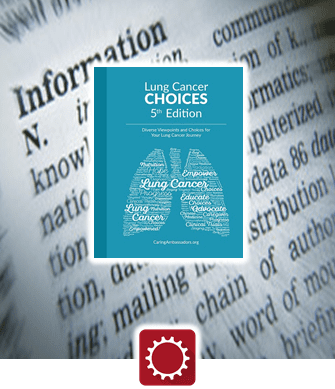 Lung Cancer Choices 5th Edition can be a useful tool for anyone who is caring for someone with lung cancer, but its primary focus is on the patient. This book is suitable for both the newly diagnosed and those who have been living with lung cancer for some time.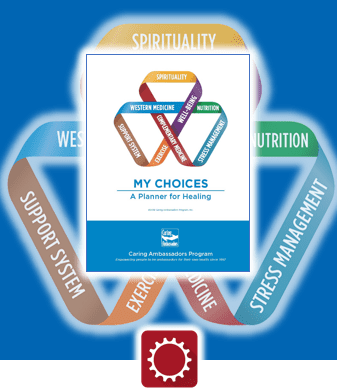 MY CHOICES© is a tool to help you recognize and act upon what you can control in your health care journey to achieve optimal healing, regardless of the illness you face. It contains elements of a guide book, health planner, journal, and activity book to help orient you to and plan for the journey ahead.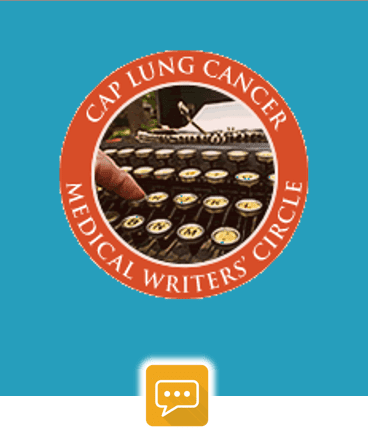 Medical Writers' Circle. The Caring Ambassadors Lung Cancer Medical Writers' Circle provides information to help you and your loved ones make informed decisions about your health and are written by experts in the field of lung cancer from throughout the Country.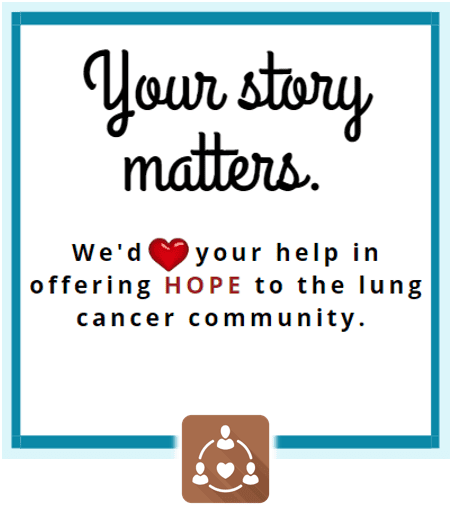 Help Open People's Eyes. Would you be so kind as to share a snippet about your lung cancer experience with us? There is no right way to share – talk, write, draw, speak poetry – just please SHARE. Email us: MyStory@CaringAmbassadors.org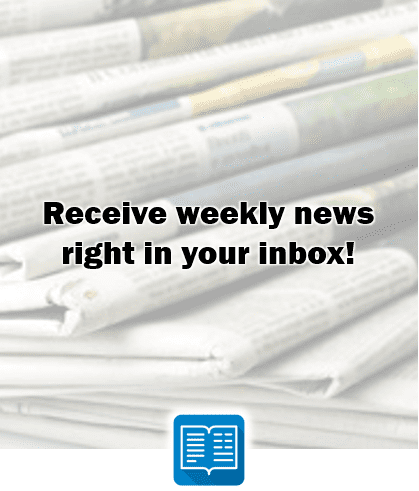 Weekly News Update. Caring Ambassadors Program provides 3 weekly news updates covering Lung Cancer News, Hepatitis C News, and My Choices© Update. Receive them delivered weekly to your inbox.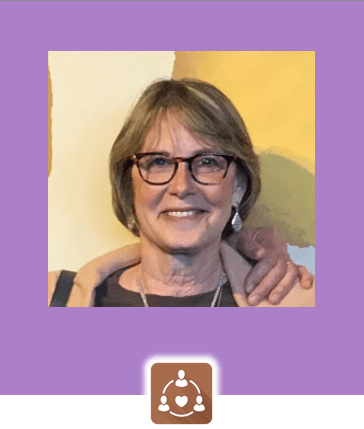 Meet Robin Sharf, through cancer and COVID-19, Robin strives to see the silver linings and does her best to live well each day with gratitude and appriecation. Read Robin's empowering story today.

Weekly News Update
Lung Cancer News
Week Ending January 24, 2022
Major Progress In Lung Cancer Early Detection and Treatment Facilitates Drop in Overall Cancer Mortality
"There's major progress in the fight against lung cancer. Although lung cancer continues to be the leading cause of cancer death, patients are finally being diagnosed earlier and living longer. This was one of the major findings in Cancer Statistics, 2022, the latest edition of the American Cancer Society's annual report on cancer rates and trends released today."
State bill being debated with Ky. having highest lung cancer rates in US
"FRANKFORT, Ky. (FOX 56) – Kentucky has the highest lung cancer rates in the country.
A new plan in the General Assembly hopes to change that. A bill being debated would make state money available to help anyone who needs a lung cancer screening."
Using Immunotherapy to Treat Lung Cancer
"A study explained the growing importance of immunotherapy as a therapeutic approach to treat cancer, where several phase III studies exhibited survival advantages and castration-resistant prostate cancer."
Completion of CT lung screening varies between groups in Hawaii
"January 20, 2022 — Participation in CT lung cancer screening varied among Native Hawaiian, Pacific Islander, and Asian individuals in a population-based study out of Hawaii published January 20 in JAMA Network Open."
Approaches and Obstacles to Frontline Treatment for Small Cell Lung Cancer
"A 73-year–old woman presented with shortness of breath, productive cough, chest pain, fatigue, anorexia, and recent 18-lb weight loss. She had a history of hypertension and was a 45 pack-a-year smoker. An examination showed she had dullness to percussion and decreased breath sounds."
Smoking cessation at time of lung cancer diagnosis associated with improved survival
"Smoking cessation initiated around the time of a lung cancer diagnosis is associated with an improved overall survival from the disease."
Diagnosed with Non-Small-Cell Lung Cancer? Here's Why You Need Biomarker Testing
"Testing for biomarkers can uncover more about your lung cancer, allowing doctors to personalize treatment to your unique cancer type."
Finding Emotional Support Following a Non-Small-Cell Lung Cancer Diagnosis
"The importance of mental health cannot be underestimated when it comes to coping with a lung cancer diagnosis."
Pembrolizumab Shows Improvements in Disease-Free Survival as Adjuvant Treatment for Non-Small Cell Lung Cancer
"New study results with adjuvant pembrolizumab show statistically significant improvements in disease-free survival (DFS) among patients with stage IB-IIIA non-small cell lung cancer (NSCLC) regardless of programmed death-ligand 1 (PD-L1) expression, according to a press release from Merck."
Sugemalimab plus chemo boosts lung cancer survival, trial reveals
"The GEMSTONE-302 study evaluated the efficacy and safety of the investigational anti-PD-L1 antibody, sugemalimab, in combination with chemotherapy as a first-line treatment for patients with stage four non-small cell lung cancer (NSCLC), versus using chemotherapy alone."
My Choices© Update


Week Ending January 24, 2022
How To Achieve A Physical & Mental State Change, From An MD
"In my early 20s, I survived on coffee, green apples from the farmers market outside my apartment building, protein bars, and grilled chicken from the sandwich counter at my local bodega—no exaggeration."
NIH Common Fund supports Nutrition for Precision Health study
"The National Institutes of Health is awarding $170 million over five years, pending the availability of funds, to clinics and centers across the country for a new study that will develop algorithms to predict individual responses to food and dietary routines."
What to know about hemp protein
"Hemp seeds are a plant-based source of complete protein that provides a range of nutrients. It is an excellent option for individuals who want to add more protein to their diet while avoiding animal products."
Acupuncture use is increasing, but many insurers do not cover it
"Even though the number of patients who visited an acupuncturist about doubled from 2010 to 2019, and insurance coverage for the treatment increased, most patients continued to pay out of pocket, according to recent data."
Alternative therapies for mental health problems: 6 options
"Complementary therapies such as yoga, dietary supplements, and animal therapy may help individuals cope with the symptoms of certain mental health disorders and improve their quality of life."
Alternative Therapy in Cancer Treatment: Top Approaches
"Alternative cancer treatment uses non-traditional medical treatment methods, such as acupuncture or herbal medicine. It's not a new phenomenon; in fact, many people believe that alternative therapies are safer than traditional treatments because they're natural and holistic."
What Are the Health Benefits of Swedish Massage?
"Swedish massage is a type of massage therapy that's primarily known for its relaxation effects. With this technique, a massage therapist targets muscles with a combination of friction, gliding strokes, and kneading."
Exercise boosts the brain — and mental health
"Working out buffs up the body — and perhaps the mind, too. New research is revealing how physical activity can reduce and even ward off depression, anxiety and other psychological ailments."
BMI is not an accurate measure of health. Here's why
"Body mass index was invented in the 19th century. In 2022, it's an outdated and biased tool."
The Best Teas For Stress Relief & How To Brew Your Perfect Cup
"From waking you up to getting you ready for sleep, there's a healthy tea for every point in the day. If you're looking for a sipper that will help you get through stressful moments, the following calming teas come expert-recommended."
Use the arrows on the sides to scroll through content!
State program urges home testing during Radon Action Month
PORTLAND, Ore.—Oregon Health Authority is recognizing Radon Action Month during January by encouraging people in the state to test their homes for radon, an odorless, tasteless and invisible gas that is the second leading cause of lung cancer in the United States after smoking.
Many parts of Oregon remain at risk of high radon, a naturally occurring radioactive gas that comes up from the ground and is drawn into buildings, where it can build up to dangerous levels. The U.S. Environmental Protection Agency estimates that radon is responsible for more than 20,000 lung cancer deaths per year in the United States. In addition to being the second leading cause of lung cancer, it is the leading cause of lung cancer among non-smokers.
People can take steps to reduce their exposure to radon by testing their homes for radon and, if necessary, hiring a professional to reduce it to a safe level. The best time to test is during the heating season, when the windows and doors are closed up tight.
"Now more than ever we are spending more time in our homes. That means more exposure to potentially high radon levels. They only way to know if you have a high radon level, is to test." recommends Jara Popinga, Radon Awareness Program coordinator at OHA. "The best time to test for radon is during the heating season or colder months when the windows and doors are closed for long periods of time."
Many test kits are priced between $15 and $25 and can be found in most hardware stores. Radon problems can be fixed by qualified contractors for a cost similar to that of common home repairs, such as painting or having a new water heater installed.
The Radon Awareness Program collects radon test data from test kit manufacturers to understand which areas of the state have the potential for high radon levels and to identify areas where educational outreach efforts need to be focused. The program is offering a free radon test kit to residents whose homes are in ZIP codes with fewer than 20 radon test results. Residents can learn more about the free short-term radon test kit program and how to apply at www.healthoregon.org/radon. Free test kits are available while supplies last.
For more information on which areas of the state are at moderate to high risk of having elevated radon levels, radon testing and mitigation, or to order a test kit online, contact the Radon Awareness Program at radon.program@state.or.us or visit www.healthoregon.org/radon.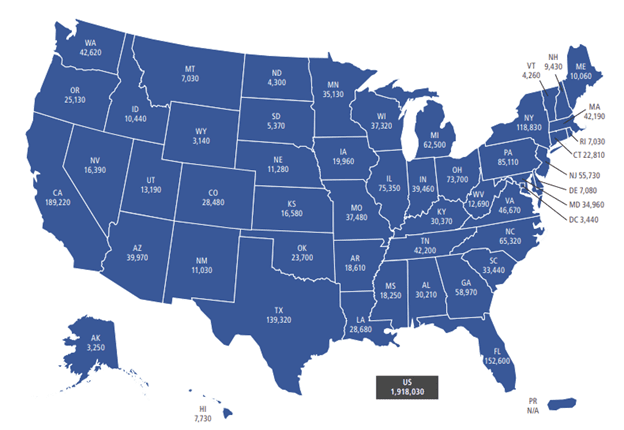 How Much Progress Has Been Made Against Cancer?
Substantial progress has been made against cancer in recent decades. The best measure of this progress is cancer death rates (also referred to as mortality rates) because they are less affected by changes in detection practices than incidence (new diagnoses) and survival rates. The overall age-adjusted cancer death rate rose during most of the 20th century, peaking in 1991 at 215 cancer deaths per 100,000 people, mainly because of the smoking epidemic. As of 2019, the rate had dropped to 146 per 100,000 – a decline of 32% – mostly because of reductions in smoking and advances in early detection and treatment for some cancers. The decline in the death rate translates into nearly 3.5 million fewer cancer deaths from 1991 to 2019, largely driven by progress against the four most common cancer types – lung, colorectal, breast, and prostate (Figure 1 and Figure 2).

1 in 15 homes tests high for radon
Radon is a naturally occurring radioactive gas that is
invisible, odorless and tasteless.
Has your home been tested?
Radon is the leading cause of lung cancer among former smokers
and those who never smoked.
Check your state's radon fact sheets here
Short-term & long-term tests are available at local hardware or home improvement stores, as well as online.
Discounted test kits and coupons may be available at: https://sosradon.org/test-kits
Early detection saves lives. Get screened for lung cancer.
Click the images to order yours today!