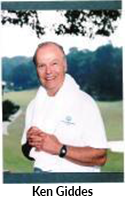 The Caring Ambassadors Program dedicates Lung Cancer Choices to program founder Ken Giddes.
Ken Giddes of Dunwoody, Georgia, survived nearly eight years after the diagnosis of non-small cell lung cancer. He died on January 27, 2001, surrounded by his family.
Ken had a successful career with Republic Financial Corporation, which supported the development of the Caring Ambassadors Lung Cancer Program. He traveled the country to meet other survivors and talk about living with lung cancer. Ken also was a "phone buddy" (one of the first in the country) to over 300 lung cancer patients and their loved ones in eight years and presented at meetings with patients, their loved ones, and the oncology community.
Ken was our mentor and the epitome of a Caring Ambassador, reaching out to others who were struggling to survive a life-changing, life-threatening illness. Ken was and still is our inspiration. He inspires us today to continue the Caring Ambassadors Lung Cancer Program.
To Ken and all lung cancer patients and all the other patient advocates who have and are working tirelessly worldwide for their respective causes, we thank you!