Weekly news updates are currently posted on the Internet site and sent out via
e-blast to provide up-to-date information on what has been covered in the news regarding lung cancer in the previous week.
Lung Cancer News
Week Ending January 13, 2020
ALK Positive and LUNGevity issue RFA for 2020 ALK-positive Lung Cancer Research Award Program
"ALK Positive/LUNGevity is requesting applications for the 2020 ALK-positive Lung Cancer Research Award. Letters of intent are due Feb. 14."
Flu vaccines may shrink tumors and boost cancer treatment
"Recent experiments in mouse models have shown that injecting an inactivated flu virus into cancer tumors makes them shrink and boosts the effectiveness of immunotherapy."
What You Need to Know About Plinabulin
"The medication plinabulin is currently being tested in clinical trials to see its benefits in treating chemotherapy-induced neutropenia.
Side effects of cancer treatment are a barrier to the care that patients can receive if the severity of the side effect forces patients to discontinue therapy. One of these side effects most often experienced by people receiving chemotherapy is neutropenia, or low count of neutrophils, which are a type of white blood cell."
Keytruda shows mixed results in late-stage lung cancer study
"The phase III KEYNOTE-604 trial investigating Keytruda (pembrolizumab), Merck's anti-PD-1 therapy, in combination with chemotherapy, met one of its dual primary endpoints of progression-free survival in the first-line treatment of patients with extensive stage small cell lung cancer."
Q&A: Cancer Death Rates Are Falling Nationally. Here's What's Happening At Uva
"This week, the American Cancer Society released some very welcome news: the cancer death rate in the U.S. dropped by 2.2% from 2016 to 2017, the largest single-year drop ever recorded."
St. Elizabeth expands lung cancer screening program to reach more at-risk people for early detection
"Kentucky: Since its 2013 launch, St. Elizabeth's successful Lung Cancer Screening Program has taken direct aim at the disease in the Northern Kentucky region, completing more than 11,000 screenings and identifying over 100 lung cancers under Stage III, when it's at its most treatable."
Gundersen researchers find lobectomy increases life expectancy in small cell lung cancer patients
"Extremely aggressive and rapidly spreading, small cell lung cancer is rare but often fatal, with just 31% of those in stage one surviving beyond five years. For those diagnosed at stage two, that percentage drops to 19%."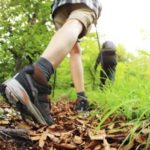 Patient step counters have 'powerful implications' for lung cancer treatment
"Clinicians who keep an eye on lung cancer patients' step counts tracked through Fitbits and other devices may be able to predict the success of each individual's chemotherapy."
Why KRAS Inhibitors for Lung Cancer Stop Working (and What Can Be Done about It)
"Among cancer biologists, finding a drug that can target KRAS proteins has been considered the Holy Grail."
Would you like to receive our newsletter directly to your inbox?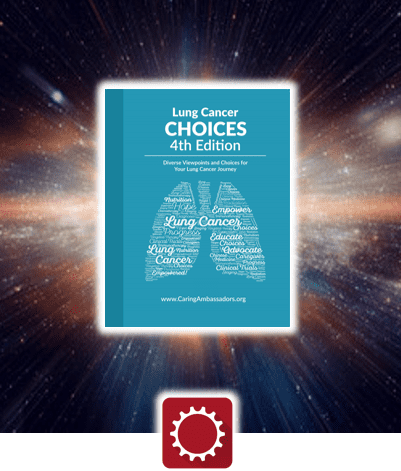 Lung Cancer Choices 4th Edition can be a useful tool for anyone who is caring for someone with lung cancer, but its primary focus is on the patient. This book is suitable for both the newly diagnosed and those who have been living with lung cancer for some time.