The Caring Ambassadors Program provides this website to help you and your loved ones understand your disease
and some of the healthcare option available to you.
Our three main methods to fight lung cancer are to Empower patients and providers with access to free educational materials, and resources; to Educate communities about the importance of screening and to share current information with patients and their families; and to Advocate for access to screening and treatment for lung cancer for all communities. Knowledge empowers you to ask the necessary questions to become your own best advocate. When your questions have been asked and answered, you and your healthcare providers will be in the best possible situation to determine the best treatment approach for you.
Newly Diagnosed?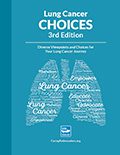 Caring Ambassadors has  released Lung Cancer Choices 3rd Edition, an amazing resource for those diagnosed with lung cancer.
Are you a Caregiver?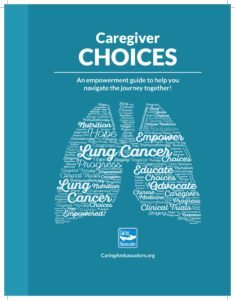 Caregiver Choices, a resource for all those who find themselves in the role of caregiver for someone who has been diagnosed with lung cancer.
Week Ending February 19, 2019
Gamer technology helps in detection of lung cancer
"TriStar Centennial Medical Center recently rolled out new technology which can detect lung cancer in it's earliest stages."
Scientists Develop Stem Cell Model To Throw Light On Lung Cancer
"A small cell lung cancer model based on a stem cell has been developed by Weill Cornell Medicine scientists. This will help understand how the initiation and the progression of the disease take place. Joyce Chen and associates have made this discovery about two genes that get suppressed and mutated."
Multimodality Approach Best for CNS Disease in NSCLC
"Radiation is still a staple in the treatment of patients with lung cancer who develop central nervous system (CNS) metastases, but novel targeted therapies are also showing promising CNS activity, said Sarah B. Goldberg, MD, MPH."
The Long-Term Benefit of Pembrolizumab in PD-L1–Positive NSCLC
"A long-term analysis of the pivotal KEYNOTE-024 trial showed that pembrolizumab continues to improve survival and have less toxicity compared with platinum-based chemotherapy in patients with advanced non–small-cell lung cancer (NSCLC) that is positive for programmed death ligand 1 (PD-L1). The results were published in the Journal of Clinical Oncology."
Wakelee Praises Progress, Points to Next Steps in NSCLC
"Understanding the molecular basis of lung cancer has allowed researchers to personalize patient treatment, but improving early detection methods and continuing to enhance the reach of immunotherapy will be crucial to further progress, said Heather Wakelee, MD."
The Role of Liquid Biopsy in NSCLC Continues to Emerge
"Liquid biopsy is emerging as an important diagnostic and evaluative tool for oncologists in the treatment of non–small cell lung cancer (NSCLC), especially as a greater understanding of the tumor microenvironment emerges."
Early-Stage NSCLC Is Ripe for Change
"There has been dramatic progress with the introduction of targeted therapies and immune checkpoint inhibitors in the management of advanced non–small cell lung cancer (NSCLC). Biomarker-driven targeted therapy has revolutionized the management of oncogene-driven lung adenocarcinomas."
Stability of symptom clusters in patients with lung cancer receiving chemotherapy
"Researchers conducted this analysis including a sample of lung cancer patients (n=145) who were receiving chemotherapy to evaluate the differences in the number and types of symptom clusters at three time points [ie, before their next cycle of chemotherapy (CTX), the week after CTX, and two weeks after CTX] using ratings of symptom occurrence and severity and to evaluate for changes in these symptom clusters over time."
DNA measuring blood test could detect lung cancer early
"A research team from the MRC Toxicology Unit at the University of Cambridge has partnered with University of Leicester scientists to devise a blood test that could enable the earlier diagnosis of lung cancer by analysing the circulating DNA levels."
EGFR and ALK Inhibitors in NSCLC Lead to Resistance Challenge
"New therapies that inhibit EGFR and ALK gene rearrangements in non–small cell lung cancer (NSCLC) have changed the paradigm of care in these settings."
PD-L1 assay specifically selects ideal patients for cancer treatment
"An assay assessing the level of programmed death ligand 1 (PD-L1) could help to determine the method of treatment for lung cancer patients…"
New data may inform standard of care for limited-stage SCLC
"In patients with limited-stage small-cell lung cancer (LS-SCLC), radiation oncologists have very different approaches to the dosing and fractionation of thoracic radiotherapy (TRT), according to a recent nationwide survey on practice patterns."
Discussing the Future of Immunotherapy in Non-Small Cell Lung Cancer
"As researchers have learned more about the mechanism behind the disease, targeted therapies for patients with EGFR-positive lung cancer have become more widely used. But given the myriad of ways this malignancy can evolve, the treatment landscape is constantly shifting, according to Edward Garon.
More Data Are Needed For EGFR-Targeted Agents in NSCLC
"The landscape of EGFR-targeted therapy in non–small cell lung cancer (NSCLC) is characterized by gains in survival as well as toxicities and novel resistance mechanisms, Edward B. Garon, MD, director of thoracic oncology at the Jonsson Comprehensive Cancer at the University of California, Los Angeles, explained in an interview with OncologyLive®."
Immunotherapy Side Effects: What Nurses Should Look Out For
"Oncology nurses are usually on the forefront of handling adverse events (AEs) associated with cancer treatments. Now, as immunotherapy continues to evolve in the lung cancer treatment landscape and other malignancies, it is crucial that nurses know the dangerous AEs to look out for.
VIDEOS
Dr. Davis on Comparisons Between Robotic Surgery and Open Surgery in Lung Cancer
Dr. Brahmer on Immunotherapy Beyond PD-1/L1 in NSCLC
Dr. Decker Discusses AEs Associated With Radiation in Lung Cancer
Order Educational Materials
Free Brochures & Materials
Be Empowered by the Journey of a Lung Cancer Sur-THRIVE-er