Rapid Fire Challenge
Maximizing Distribution of Patient Educational Materials
The Challenge
Caring Ambassadors is a nonprofit that works to improve the lives of patients and communities by empowering and educating them to be advocates for their own health. Their Lung Cancer Program has published 3 books dedicated to helping patients gain the knowledge and understanding they need to navigate their treatment and become an ambassador for their own health. The books are highly accredited and written by experts in the field, and they even offer free digital copies which patients can easily download. Caring Ambassadors has a grant to distribute 250 free hard copies to patients, caregivers, oncology nurses, patient navigators, and social workers. However, while they have succeeded in bringing a wide audience to their website where they can request a hard copy free of charge or download the books, they are struggling to convert those views into orders/downloads. Caring Ambassadors is therefore looking for strategic advice on how to hone their messaging and marketing strategies to reach more of their target audience and convert more views into orders/downloads.
Key Questions
1. What is the best way to target lung cancer patients/caregivers on social media? Is one platform more effective than the others?
2. Do you have any ideas or suggestions to improve campaign branding and messaging? (See Marketing Efforts to-date below)
3. Does providing free copies diminish the value?  
Marketing Efforts to-date
Click Here to see all of the social media images and associated posts
Twitter feed is not available at the moment.
Constant Contact Email Outreach
In our outreach to our followers on email we are highlighting the authors of each chapter to show the breadth of expert authors.
Sample email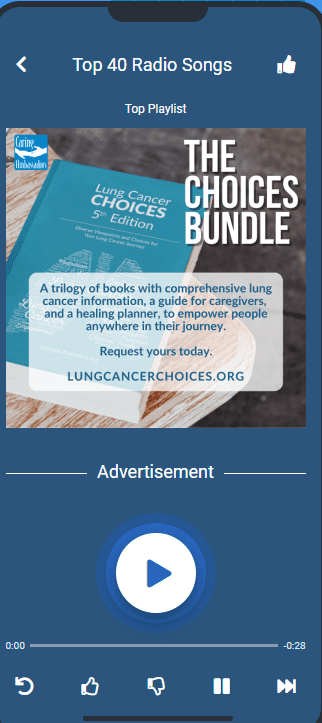 Have you been diagnosed with lung cancer? To be an ambassador for your own health, it's important that you take the time to learn about lung cancer and the health care options available to you. Go into your health care appointments as an active participant, prepared with important questions. You can gain control over the decisions that lie ahead. Don't wait, request the Choices Bundle of educational materials to be shipped to you free of charge at LungCancerChoices.org. That's LungCancerChoices.org