Right now, someone you care about has lung cancer. This is a tough time.
Caregiver Choices is a resource for all those who find themselves in the role of caregiver for someone who has been diagnosed with lung cancer. We hope that this book will help you support your loved one with lung cancer and take care of yourself throughout your future together.
A life-changing illness brings much more than the symptoms of a disease. Challenges and potential opportunities arise, as well. New perspectives, values, and inspiration can emerge if they are welcomed and fostered. For example, unexpected illness and a stroke of inspiration gave rise to the Caring Ambassadors Program.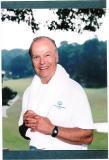 In 1993, Ken Giddes was diagnosed with lung cancer. After an extensive period of treatment, Ken's cancer appeared to be in remission. As Ken reflected on his experience, he pondered how to use his experience to benefit others. With a strong belief in the power of people helping people, Ken and his employer, Jim Possehl of Republic Financial Corporation (RFC), came up with the idea of a program to help people struggling with life-changing illnesses get the support, help, and information they needed. In 1997, Ken and his employer turned their inspiration into reality. The Caring Ambassadors Program was founded at the same time as its first disease-specific program, the Caring Ambassadors Lung Cancer Program.
Ken spent the last years of his life working as a Lung Cancer Caring Ambassador, giving talks about his experiences and being empathetic and encouraging to others who were facing it. Later, his cancer returned, and Ken passed away in January 2001. However, the work he believed in and passionately dedicated himself to goes on.
One of the most meaningful results of Ken's inspiration was the creation of Lung Cancer Choices, a patient-focused book that provides information about lung cancer to help people make decisions about their treatment for lung cancer. We are proud of Lung Cancer Choices and hope that both you and the person you're caring for will find it helpful.
This book, Caregiver Choices, is a companion to Lung Cancer Choices. It focuses on you, the caregiver, and all you might face during your experiences. We hope this will not only help you be the best caregiver you can be, but that it will also help you take care of yourself during this journey.
A note on person-first language: you will notice throughout this document that we consistently use the phrase "person with cancer" or other similar terms and that we try to avoid phrases such as "cancer patient" and the like. The difference may seem trivial to you, but listing the person before the disease, rather than the other way around, can be a powerful mental comfort to a lot of people. Nobody wants their lives to be defined by a single thing, especially something like cancer. People who hear themselves referred to over and over as a "cancer patient" may start to feel like cancer has taken over their lives and that it is the only thing that anyone cares about anymore. We do not believe that is true; people with cancer have many other attributes that should be celebrated. By putting the person before the disease, we are telling people with cancer that they are more than their cancer.