Invalid slider ID or alias.
The Caring Ambassadors Program provides this website to help you and your loved ones understand your disease
and some of the healthcare option available to you.
Our three main methods to fight lung cancer are to Empower patients and providers with access to free educational materials, and resources; to Educate communities about the importance of screening and to share current information with patients and their families; and to Advocate for access to screening and treatment for lung cancer for all communities. Knowledge empowers you to ask the necessary questions to become your own best advocate. When your questions have been asked and answered, you and your healthcare providers will be in the best possible situation to determine the best treatment approach for you.
Newly Diagnosed?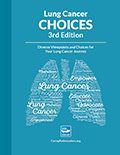 Caring Ambassadors has  released Lung Cancer Choices 3rd Edition, an amazing resource for those diagnosed with lung cancer.
Are you a Caregiver?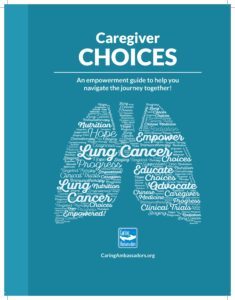 Caregiver Choices, a resource for all those who find themselves in the role of caregiver for someone who has been diagnosed with lung cancer.
Recent News
Week Ending November 26, 2018
Early detection is key in fighting lung cancer
"The words "lung cancer" can strike fear into any individual, but physicians across the country are trying to get the word out that early detection can mean the difference between life and death."
Developed cases of Lung Cancer decrease, awareness increases
"About 234,000 people will be diagnosed with a certain disease this year alone, changing their lives forever."
Impact of COPD on prognosis of lung cancer: from a perspective on disease heterogeneity
"COPD is an important comorbidity of lung cancer, but the impact of COPD on the outcomes of lung cancer remains uncertain. Because both COPD and lung cancer are heterogeneous diseases, we evaluated the link between COPD phenotypes and the prognosis of different histological subtypes of lung cancer."
This Woman Thought She Had Pneumonia—but It Turned Out to Be Stage 4 Lung Cancer
"Amanda Nerstad had just moved from Chicago to Knoxville, Tennessee when she started feeling an odd pressure in her chest. "I kept thinking it must be stress from the move," she tells Health."
Lung Cancer Treatment Approach May Support Disease Progression
"Epigenetic regulators that modify factors involved in switching genes on and off represent attractive anticancer targets, but whether this strategy will work in vivo hasn't yet been proven."
Determinants of motivation to quit in smokers screened for the early detection of lung cancer : a qualitative study
"The promotion of smoking cessation within lung cancer screening could lead to benefits for smoking-related disease and improve cost-effectiveness of screening. Little is known about how smokers respond to lung cancer screening and how this impacts smoking behaviour."
Lung Cancer Screening Inconsistent With U.S. Preventive Services Task Force Recommendations
"Prior studies suggest overuse of nonrecommended lung cancer screening tests in U.S. community practice and underuse of recommended tests."
Decoding the Many Types of Lung Cancer
"When Lori Morris was diagnosed with stage 4 lung cancer in January 2018, she knew she didn't fit most preconceived notions of who is impacted by the disease. The 54-year-old entertainment executive from California was an active non-smoker."
Construction of a nomogram predicting the overall survival of patients with distantly metastatic non-small-cell lung cancer
"This study aimed to establish a nomogram to predict the overall survival (OS) of the general non-small-cell lung cancer (NSCLC) patients with distant metastasis."
Nonsmoker with stage-four lung cancer is working to raise awareness
"Lung cancer is a devastating disease and despite its reputation as a smoker's disease, it affects nonsmokers as well."
VIDEOS
Lung Cancer Awareness with Dr. Patel
Order Educational Materials
Free Brochures & Materials
Be Empowered by the Journey of a Lung Cancer Sur-THRIVE-er